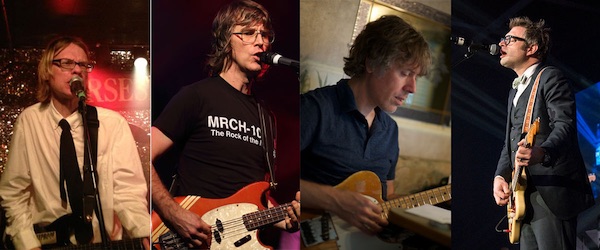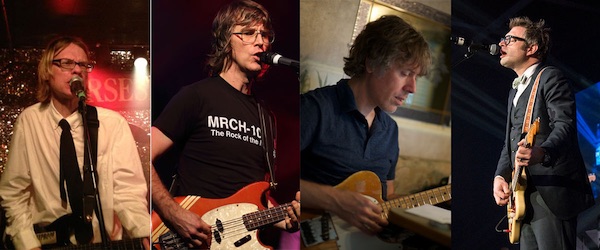 Where: Southern Ontario Tour
When: April 19–28, 2017
Cost: Tickets Vary depending upon Venue
Details: Four friends, four frontmen and four iconic Canadian rock bands  – the TransCanada Highwaymen is a Canuck super group made up of Moe Berg of The Pursuit of Happiness, Chris Murphy of Sloan, Craig Northey of Odds and Steven Page, formerly of Barenaked Ladies.
Performing 16 of their hit songs including fan faves "I'm an Adult Now", "The Other Man", "It Falls Apart" and "Brian Wilson", the set will also incorporate band videos, never before shared photos and inside jokes gleaned from 25 years of friendship and camaraderie.
From British Columbia to Nova Scotia, each individual TransCanada Highwaymen member has left an indelible mark on the Canadian music scene. They come together now to share their road stories and laugh at the mayhem, mishaps and mischief that go along with being part of a band. Switching instruments throughout the show, the band will move freely from music to memories while providing behind the scenes access to the creative minds who wrote the songs that everyone knows and loves.
For this limited engagement, Moe, Chris, Craig and Steven will share a glimpse into one of the most transformative eras in Canadian music. Ontario tour dates include Brampton, Brantford, Guelph, Kingston, North Bay, Oakville, Richmond Hill and St. Catharines, April 19 – 28.
ONTARIO TOUR APRIL 2017
April 19 – St. Catharines, ON @ FirstOntario Performing Arts Centre, Tickets from $53
April 20 – Guelph, ON @ River Run Centre, Tickets from $50
April 22 – Kingston, ON @ The Grand Theatre, Tickets from $50
April 23 – North Bay, ON @ Capitol Centre, Tickets from $40
April 25 – Oakville, ON @ Oakville Centre for the Performing Arts, Tickets from $73
April 26 – Brantford, ON @ Sanderson Centre for the Performing Arts, Tickets $55
April 27 – Richmond Hill, ON @ Richmond Hill Centre for the Performing Arts, Tickets $50
April 28 – Brampton, ON @ Rose Theatre, Tickets from $50
More Info: @TCHighwaymen