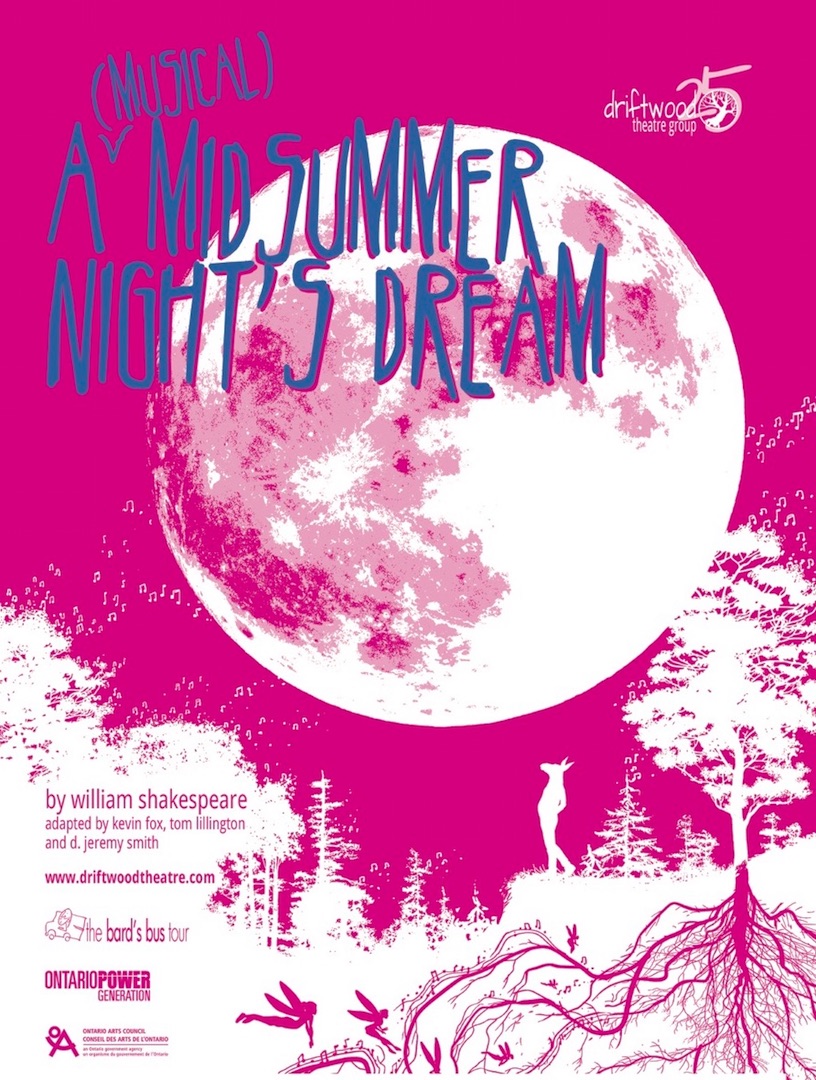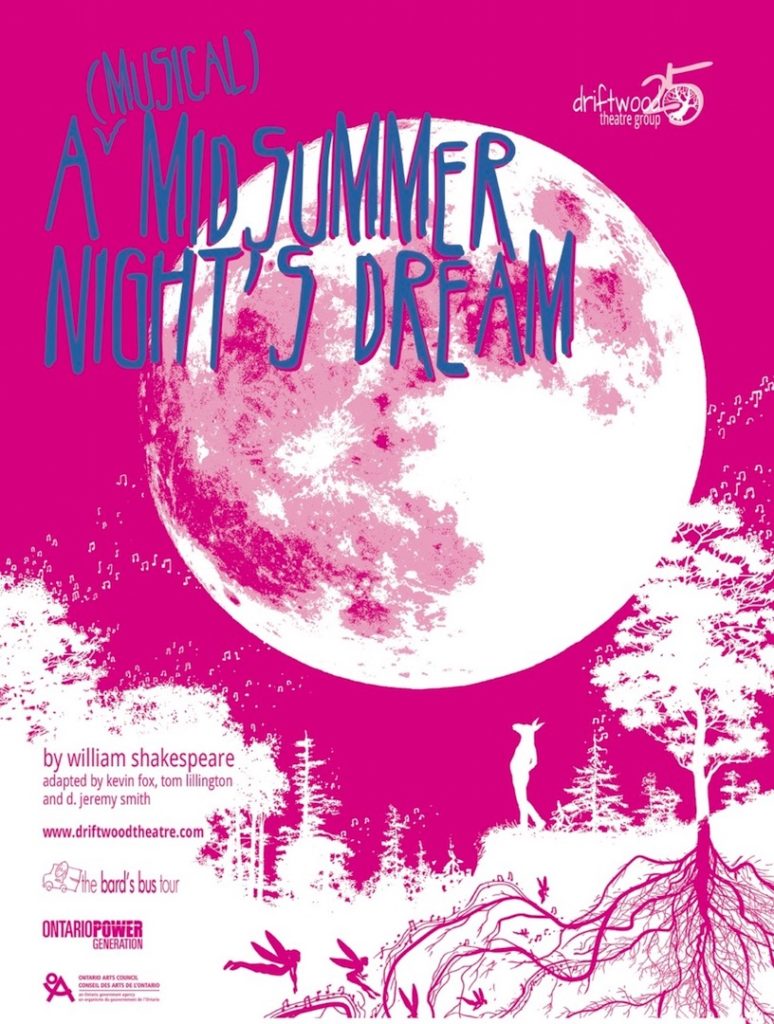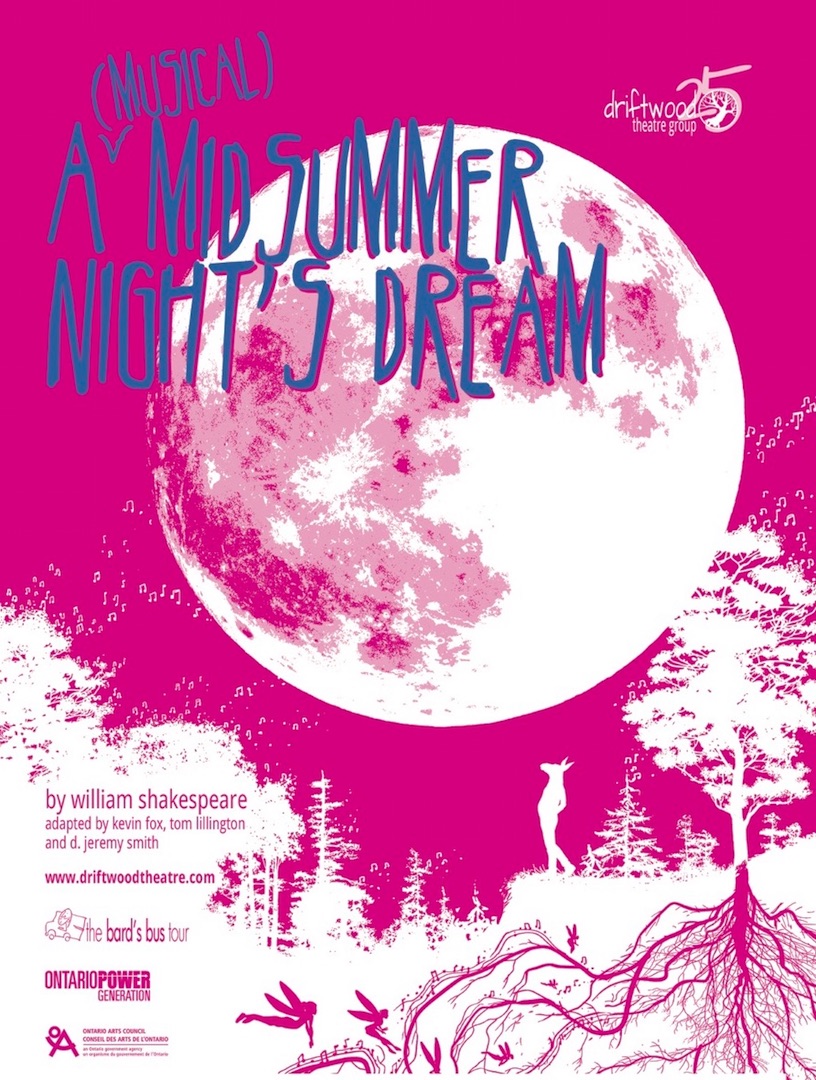 Where: 27 performances in 22 cities and towns in Southern Ontario.
When: July 19–August 18, 2019. All performances begin at 7:30pm
Cost: All performances are FREE or PWYC admission. Suggested donation $20-$30/person. Patrons can now also reserve spaces and chairs  for each performance in advance online at www.driftwoodtheatre.com
Details: Driftwood Theatre presents their 25th annual Bard's Bus Tour with A (musical) Midsummer Night's Dream, an a cappella slant on William Shakespeare's most popular comedy. Driftwood Theatre brings accessible, live, outdoor theatre across Ontario with contemporary Canadian takes on Shakespeare.
Using Shakespeare's text the production is a colourful, rocking, rolling, funktastic, jazz-infused musical celebration of theatrical proportions; with everything performed live and entirely A Cappella. Originally created by Driftwood in 2004 and performed again in 2012, the production reunites composers Kevin Fox and Tom Lillington with director Jeremy Smith.
For their 25th season, Driftwood will imagine A (musical) Midsummer Night's Dream as an outdoor summer theatre experience for the entire family. Four lovers and one group of hapless tradespeople experience a chaos-filled night in the forest as they stumble across the mischievous Puck and the magical denizens of the faery kingdom. The ensemble includes Steven Burley, Nick Dolan, Nathaniel Hanula-James, Kelsi James, Ahmed Moneka, Marissa Orjalo, Siobhan Richardson and James Dallas Smith.
Friday, July 19 – PREVIEW – Burlington Performing Arts Centre Plaza
Saturday, July 20 – OPENING NIGHT – Parkwood Estate – Oshawa
Sunday, July 21 – Esplanade Park – Pickering
Tuesday, July 23 – Celebration Square – Whitby
Wednesday, July 24 – Riverwood Park – Mississauga
Thursday, July 25- Thorn Lodge Park – Mississauga
Friday, July 26 – Saturday, July 27 – Withrow Park – Toronto
Sunday, July 28 – TBD – Toronto
Tuesday, July 30 – Guild Park – Scarborough
Wednesday, July 31 – Dundas Driving Park – Hamilton
Thursday, August 1 – Civic Centre – Kitchener
Friday, August 2 – Kawartha Settlers Village – Bobcaygeon
Saturday, August 3 – Memorial Park – Marmora
Sunday, August 4 – Peterborough Museum – Peterborough
Tuesday, August 6 – Battery Park – Kingston
Wednesday, August 7 – Lennox & Addington Museum – Napanee
Thursday, August 8 – Trent Port Marina – Trenton
Friday, August 9 – Millpond Park – Bloomfield
Saturday, August 10 – Victoria Park – Cobourg
Sunday, August 11- Scugog Shores Historical Museum – Port Perry
Tuesday, August 13 – Leacock Museum and Historical Site – Orillia
Wednesday, August 14 – Visual Arts Centre of Clarington – Bowmanville
Thursday, August 15 – Daniels Spectrum Courtyard – Toronto
Friday, August 16 – Ingersoll Museum – Ingersoll
Saturday, August 17 – Silver Lake Park – Port Dover
Sunday, August 18 – Mann Raceway Plaza (First Ontario Performing Arts Centre) – St. Catharines

More Info: www.driftwoodtheatre.com @DriftwoodTheatr @driftwoodtheatre