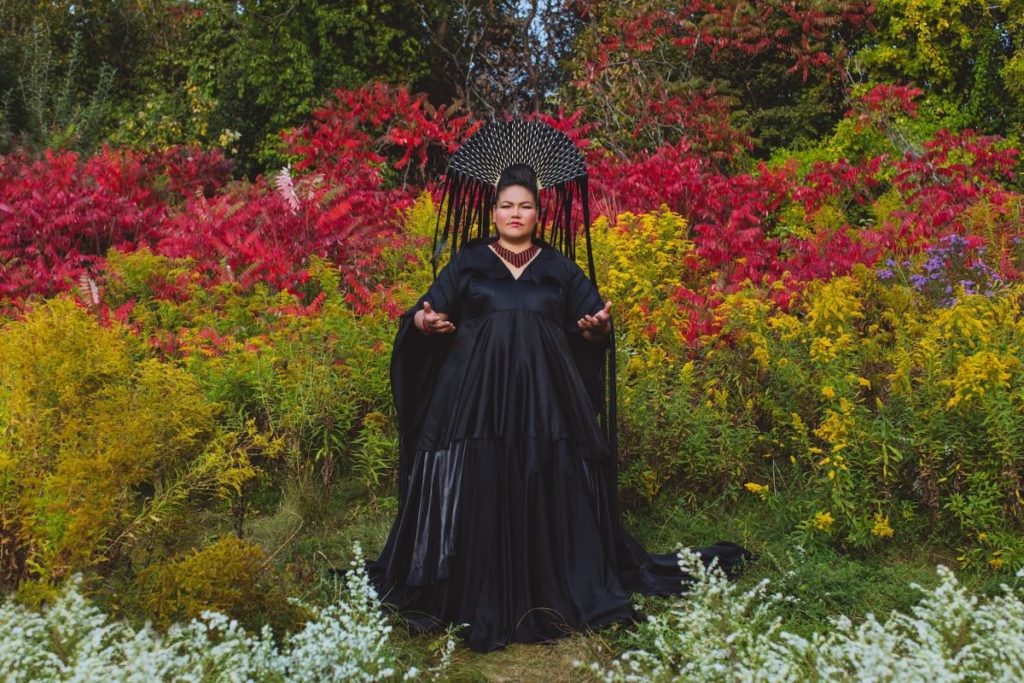 Where: Four-Day Online Festival at IFWtoronto.com
When: November 26 – 29, 2020
Cost: Online Runway Presentations: 7pm ET nightly, FREE
Details: The biennial Indigenous Fashion Week Toronto (IFWTO) will be available online on a new website at IFWtoronto.com. 

The IFWTO Online Pop-up Marketplace will allow audiences to shop for fashion, craft and textiles from 40 limited edition Indigenous-made collections. Customers can shop from designers including: Indi City, Blu Hummingbird, Catherine Blackburn, Aylelum – The Good House of Design, Mad Aunty, Lesley Hampton, Tania Larsson, Running Fox Beads, Niio Perkins, and a spotlight on artists and designers from Northwestern Ontario.
In August 2020, IFWTO filmed four runway presentations featuring 16 designers at Harbourfront Centre in Toronto. The four short films will be screened each day of the Festival and are free to all audiences. Incorporating fashion, film, theatre and dance, the filmed runway presentations offer an intimate view of each garment from IFWTO designers including Lesley Hampton, Warren Steven Scott, Maru Creations, and Skawennati. The IFWTO films celebrate Indigenous-made fashion, craft and textiles, and share Indigenous visual narratives through material, movement, light and collaboration.
The four-day Festival will go live at IFWtoronto.com and include cinematically produced runway presentations, the IFWTO Marketplace, a preview of the digital art exhibition "A Thread That Never Breaks" and a series of panel discussions co-presented with Ryerson School of Fashion called "Fashioning Resurgence".
Online Runway Presentations: 7pm ET nightly, FREE
Day 1: Tu Gh'eh Nah (Water is Life)
Miss Chief Rocka / Mobilize / Jason Baerg / Section 35 / Skawennati
Day 2: Tu Cho (Lake) – Global Program
Maru Creations / Margaret Jacobs
Day 3: Tu Gh'eh Tl'e'th (Streams)
Warren Steven Scott / Curtis Oland / Indi City /
Evan Ducharme / Hand of Solomon
Day 4: Tu Gh'el T'ilhn (Water Carriers) – Women's Program
Ay Lelum – The Good House of Design / Anne Mullaire /
Lesley Hampton / Celeste Pedri-Spade
More Info: For schedule visit https://ifwtoronto.com/festival-schedule 
 @ifwToronto @IFWToronto