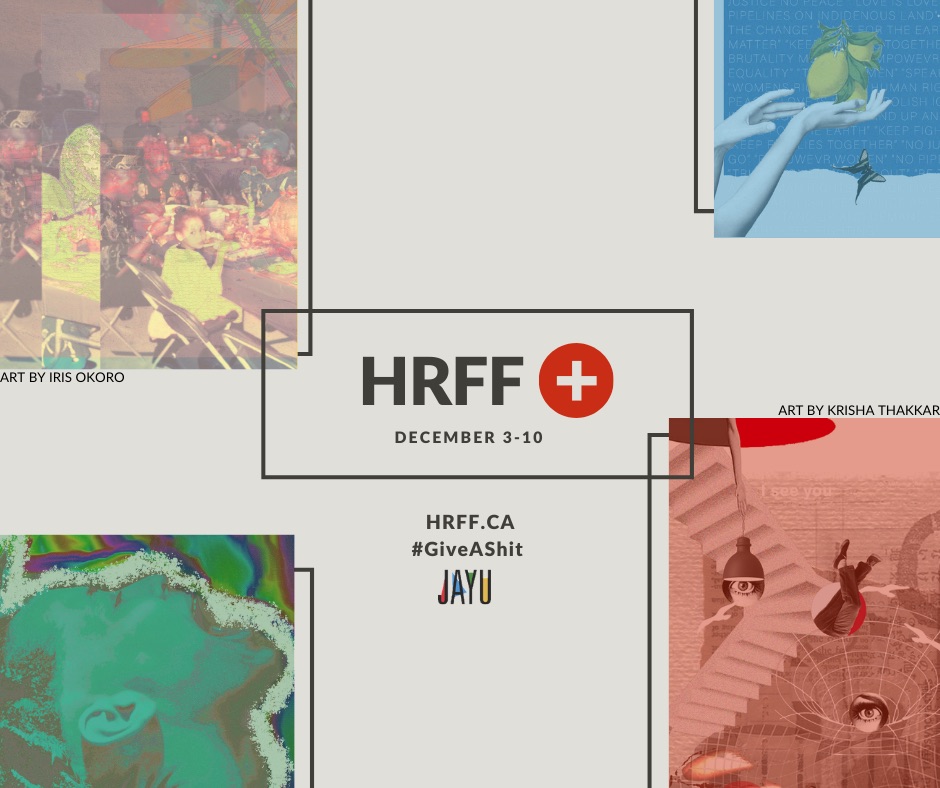 Where: Online at www.hrff.ca
When: December 3-10, 2020
Cost: Free
Details: JAYU presents the 9th annual Human Rights Film Festival + (HRFF+), a week-long online presentation of social justice focused art, film, workshops and more. This groundbreaking film festival is presented in celebration of International Human Rights Month in December, and for the first time will be free of charge. The Festival closes on International Human Rights Day, December 10, with a powerful keynote address by Black Lives Matter core team member Syrus Marcus Ware.
In addition, for the first time ever, HRFF+ has expanded its Festival, and this year will not only feature a slew of thought-provoking and extraordinary human rights based films but also an arts showcase, exhibition, and poetry jam, all centred around Toronto's youth.
Headlining this year's HRFF+ film edition is the Canadian premiere of Objector. Directed by Molly Stuart, Objector is a thought-provoking film offering a unique window into the Israeli-Palestinian conflict from the perspective of a young woman who seeks truth and takes a stand for justice. The lineup will also feature the Canadian premiere of Maddy the Model. Directed by Jane Magnusson, 'Maddy' is the first professional supermodel with Down syndrome. With her mother, Rosanne, as her constant supporter, she travels the globe, setting an example of inclusion and diversity in the fashion world through her work. HRFF+ will also be presenting the Canadian premiere of Indianara, directed by Aude Chevalier-Beaumel and Marcelo Barbosa, to be screened on December 6th, the National Day of Remembrance and Action on Violence Against Women.  The film opens with a scene showing the burial—in an unmarked grave—of another victim of transphobia that has claimed numerous victims in Brazil. Indianara is a controversial and radical activist fighting for the physical survival of an excluded LGBTQ+ community at a time when Brazil has taken a turn to the extreme right.
HRFF+ will also be presenting several activities to showcase Black youth, including an arts showcase, JAYU'S iAM Exhibition, a holding space for young Black voices from across Ontario to showcase incredible artistic talents. All of the work featured will highlight positive representations of Blackness. During this unique residency, 10-12 aspiring young artists received one-on-one mentorship and curated artwork for an online exhibition. HRFF+ will also be presenting JAYU Stages, a multidisciplinary showcase highlighting artists and what human rights means to them and their craft, as well as the first ever JAYU Poetry Slam, where the hottest poetic talent from across Canada will battle head-to-head in an exciting live event.
In commemoration of International Human Rights Day on December 10, there will be a powerful keynote address from Syrus Marcus Ware. A Vanier Scholar, award-winning visual artist, educator, and core-team member of Black Lives Matter Toronto, Syrus will discuss systemic racism, the ways in which it's been exposed during the COVID crisis, and the role the arts have in combating it.
More Info: www.hrff.ca or follow @JAYUCanada across all platforms.