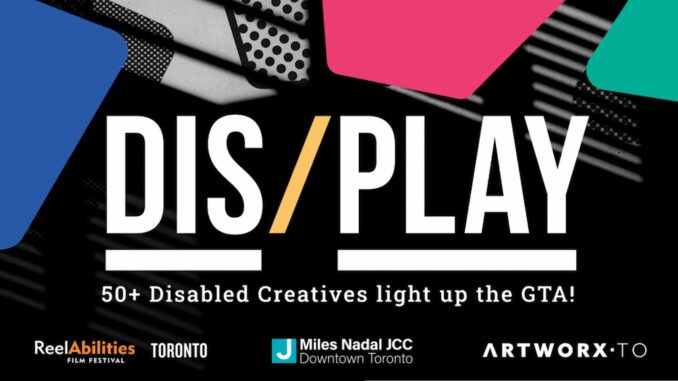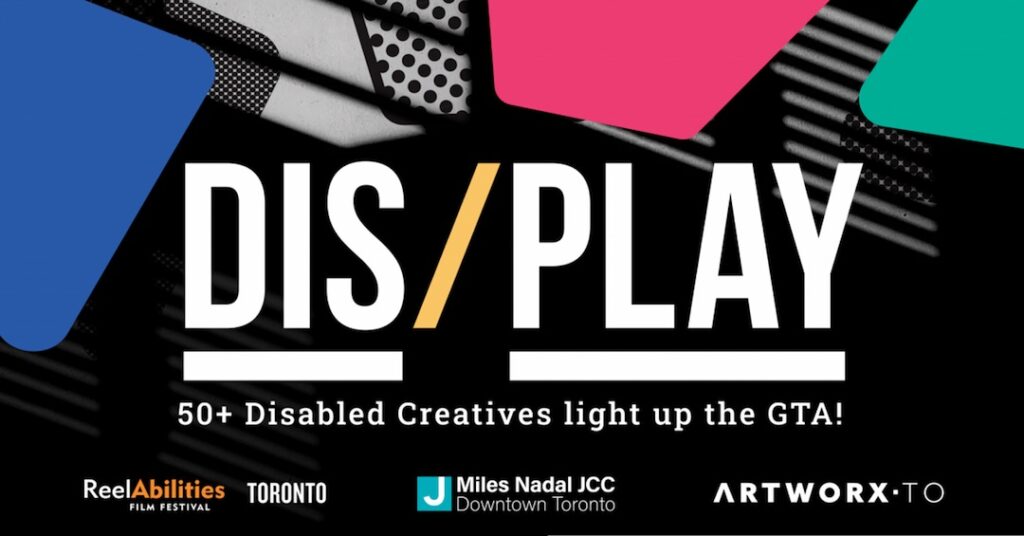 Where: 3 locations
When: November 12-27, 2021
Cost: Free to public
Details: Dis/Play is an outdoor, public art video installation featuring 50 disabled artists and their stories projected on unique spaces at Walmer Road Baptist Church (in partnership with TAS), Artscape Wychwood Barns and Miles Nadal JCC in Toronto. Dis/Play uses video projection and oral storytelling from these artists with their response to the prompt, "How do you want to be seen?"
Audiences will encounter the stories of artists Jasmine Noseworthy Persaud, Winter Plum, and Michel Dumont, accompanied by images and video clips that visually represent their words. Between each story, visual art by a dynamic cross section of disabled creatives will emerge and float into focus. These pieces will be underscored by descriptive words chosen by the artists to reflect the intention of their work, sung by Ophira Calof.

Dis/Play will feature art work by: Olivia Dreisinger, Rita Winkler, Adam Roy Cohoon, Self_Saboteur, Jesse Grunzeweig, Deborah Helfand, Sylvia Frey, Daniel, Aliza Bernstein, Leiba Juroviesky, Tanya Kogon, Jordan Fishbayn, Jonah Rootenberg, Meesh QX, Alanna Gail Kibbe, Sylvia Frey, Dori Anki, Josh Kadysiewicz, Noah Wolanski, Efrat Avraham, Jaclyn Grabovskis, Asher Rivera, Rose Poon, Fabian Mosquera, Vinnie Stalk, Christina Baltais, Graham Landgraff, Hannah Bullock, Ariel Elofer, Samantha Walsh, Human Connection Arts, Lisa Fred, Andy Golub, Elisabeth Harrison, Lynn Bertrand, Philiz Goh, Jill Barnes, Sioux Lily Dickson, Effie Biliris, Krista Weltner, Emily Causi, Roxanne (Roxy) Riess, M.C Cruz, Miri Charney, Dev Ramsawakh, Talya Sokol, SK Sabada, Bobby, Rosani Christy, Faith Andrew, Hilary Anne, Emily Schooley and Dan Barra-Berger.
Dis/Play explores innovative disability aesthetics, treating access measures as art, along with embodying interdependence and cross-disability organization in the creative framework. Far too often accessibility is an afterthought to all parts of society, including the arts. This project embraces access at every stage of the process, and has explored how to create a community driven piece while remaining physically distanced and ensuring the safety of everyone involved.
Dis/Play Schedule and Locations:

-Walmer Road Baptist Church Exterior (188 Lowther Avenue)

November 12-15, Showings each night at 7:15pm, 8:00pm, 8:45pm
-Artscape Wychwood Barns (76 Wychwood Avenue)

November 16-18, Showings each night at 7:15pm, 8:00pm, 8:45pm
-Miles Nadal JCC (750 Spadina Avenue)

November 24-27, Showings each night at 7:15pm, 8:00pm, 8:45pm
More Info: www.artworxto.ca/event/dis-play Instagram: @culture_to  Twitter: @culture_to