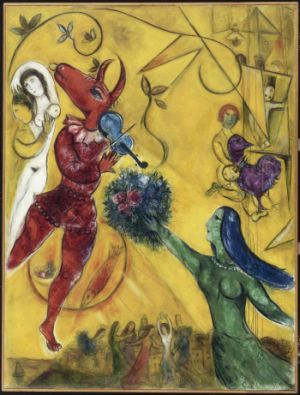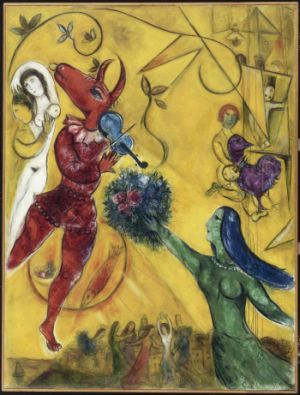 The Art Gallery of Ontario brings the magic and wonder of modern painter Marc Chagall (1887 – 1985) to Toronto with a major exhibition organized by the world-renowned contemporary art museum, Centre Pompidou. Chagall and the Russian Avant-Garde: Masterpieces from the Collection of the Centre Pompidou, Paris is on view from October 18, 2011 to January 15, 2012.
The exhibition includes 32 vivid and imaginative works by Marc Chagall and eight pieces by Wassily Kandinsky, alongside pieces from other visionaries of Russian modernism such as Kasimir Malevich, Natalia Goncharova, Sonia Delaunay, and Vladimir Tatlin. A total of 118 works belonging to the collection of the Centre Pompidou comprises a broad array of media including painting, sculpture, works on paper, photography and film.
Exploring the life and work of Marc Chagall and the history of the Russian avant-garde, the exhibition is characterized by five thematic chapters: In Search of Roots, Artistic Advances in Paris and Russia, Return to Russia, Art and Revolution, and Chagall's World of Theatre and the Circus. The influence of Chagall's Russian-Jewish heritage and how it informed his artistic practice is traced throughout the exhibition, illustrating how he at turns embraced and rejected broader movements in art history through the development of dynamic, narrative style.
AGO Ticket Prices: Members – Free, Adults (18-65) – $25, Seniors (over 65) – $21.50, Students (with ID) $16.50, Youth (6-17) – $16.50, Families (2 adults and up to 5 youth) $62.50, Children (5 and under) – Free
For more info visit www.ago.net/exhibitions