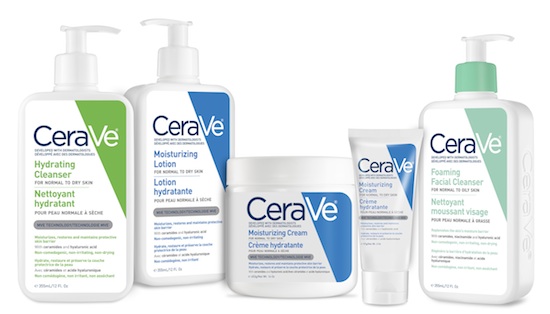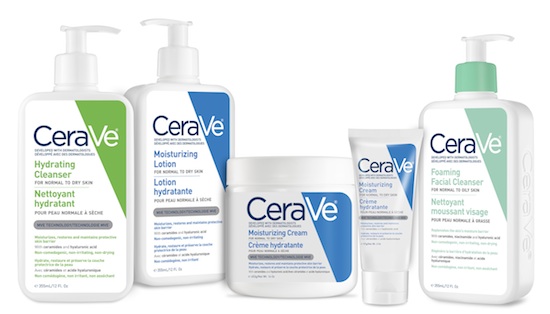 What: Recommended by Dermatologists in Canada, CeraVe® is the first brand to contain the essential ceramides, cholesterol and fatty esters that healthy skin needs. The daily regimen of cleansers and moisturizers helps repair, replenish and protect the skin barrier to leave your skin looking and feeling soft, clean and healthy.
About: CeraVe products help cope with a variety of skincare problems, including redness and dryness that comes with changing weather temperatures. Can be used alone or can be used to support a cleansing and moisturizing regimen for anyone suffering from eczema, psoriasis, acne and rosacea. The lineup includes: CeraVe Moisturizing Cream ($22.99/16 oz and $7.99/56.7 g), Moisturizing Lotion ($15.99/355 ml), Foaming Facial Cleanser ($15.99/355 ml) and Hydrating Cleanser ($15.99/355 ml).
Bonus: Non-irritating, non-comedogenic and fragrance-free, CeraVe is the only skincare line with unique, patented Multivesicular Emulsion (MVE®) technology which used to be available only in prescription formulations. The moisturizers, which are a top seller in US drug stores, have won many beauty industry awards and have been featured on high profile TV shows such as Dr. Oz, The View and Oprah.
Where: All CeraVe® skincare products can be found at drugstores, mass retailers and grocery stores across Canada. For more info visit www.cerave.ca, Facebook (facebook.com/CeraVeCanada) and Twitter (@CeraVeCanada).