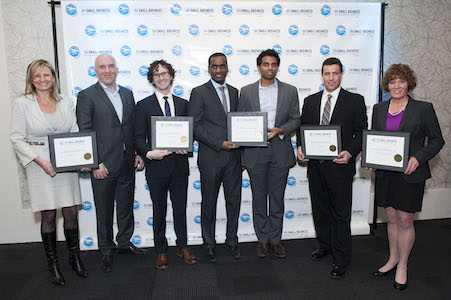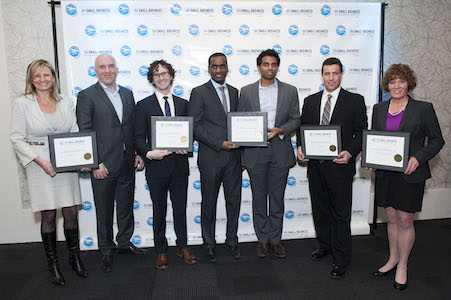 This week, the AIR MILES® Reward Program celebrated the winners of the first annual Small Business Achievement Awards at a special ceremony held at the Toronto Board of Trade. Small businesses account for more than 98% of all companies, playing an important role in job creation. On average, Canadian small businesses create a little over 100,000 jobs each year.
Awards were presented in five categories:
– Small Business of the Year: North Strategic – Toronto, ON; Mia Pearson and Justin Creally, Co-Founders
– Start-up of the Year: Village Brewery – Calgary, AB; Jim Button, Co-Founder
– Innovation of the Year: Menyou – Toronto, ON; Thaves Ponnampalam and Ara Ehamparam, Co-Founders
– Social Impact: North Shore Sports Medicine – North Vancouver, BC; Paige Larson, President and CEO
– Youth Entrepreneur of the Year: Lawn Troopers® – Brampton, ON; Matt Hill; Founder
The winner of each category will receive an invaluable mentorship from one of North America's top business leaders, 10,000 AIR MILES reward miles and will be profiled in the April issue of Canadian Business magazine.
Kevin O'Leary, Chairman, O'Leary Funds, and a seasoned veteran in providing valuable guidance to small business owners across the country, opened the ceremonies with a keynote speech peppered with colourful Dragons' Den anecdotes, and sage advice culled from his own experiences. Later, attendees were informed by panel discussions featuring representatives from Google Canada, Facebook Canada, Twitter Canada, BMO Bank of Montreal and American Express Canada, on relevant small business ownership topics.
AIR MILES for Business provides Canadian small business owners with the means and opportunity to reward themselves, their businesses and their employees, offering a dynamic online destination with a range of content and rewards, including: merchandise, special discounts and invitations to business-focused events. Membership also provides access to valuable tips and information that can help propel their businesses forward. Canadian small business owners can sign up, find out about benefits and learn more by visiting airmiles.ca/business.