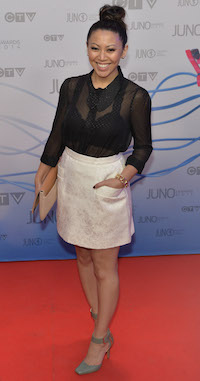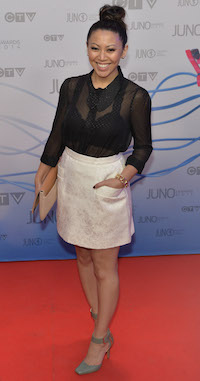 Get up-and-coming, soul music artist Joanna Borromeo's perfectly crafted, topknot from the 2014 Junos Red Carpet. Styled by TRESemmé hair stylist Roger Medina, this look works for daytime brunch to evening drinks.
Step-by-step styling tips (courtesy of TRESemmé):
1. Start by damping your hair down with a water bottle and gently combing through TRES Ultra Firm Control Gel throughout the hair.
2. After the hair is saturated and distributed throughout the hair evenly, start combing it upwards towards the top of your head or where you desire to have your tossed bun placed. For Joanna, we placed it right on top to give her more of a clean/sleek look.
3. Then I go in and use a hair bungie but if you don't have one, you can use two hair ties to secure the ponytail in place.
4. I start wrapping hair around the pony and bobby pinning in place. This is where I was able to get creative. I incorporated a couple braids in the toss bun for Joanne to give it more of a non traditional look.
5. Finished off her hair with TRES Two Freeze Hold Hair Spray and TRESemmé Smooth & Silky No Frizz Shine Spray for it to last throughout the night at the 2014 Juno Awards show.
Roger has worked with Carly Rae Jepsen and was named one of "Canada's Finest Bridal Hair Stylists" by Wedding Bells Magazine. For more product info visit www.tresemme.ca