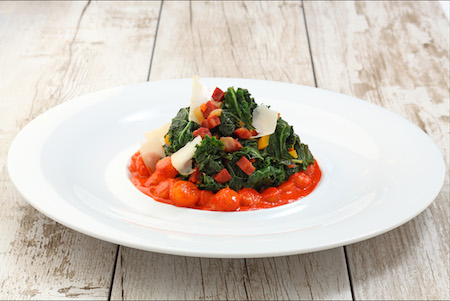 Clearwater Seafoods is dedicated to sustainable seafood excellence; all of the core products are Marine Stewardship Council (MSC) certified, which is the world-recognized gold standard in sustainable fisheries. Known for lobster, scallops, shrimp and clams, the company has recently introduced Bacon Wrapped Scallops and Scallops & Sauce products.
Dedicated to sustainable harvesting and wild-caught seafood, Nova Scotian native Chef Stefan Czapalay is Clearwater Seafoods' executive chef. Stefan shares a few of his easy-entertaining delicious recipes which feature the new Clearwater Scallop products. Enjoy!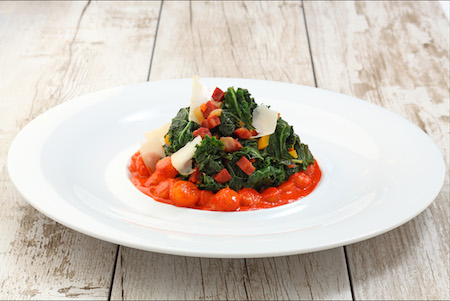 Warm Kale and Chorizo Salad with Patagonian Sun-Dried Tomato Scallops & Sauce
Ingredients:
1 Package of Clearwater Sun-Dried Tomtato Scallops and Sauce
4 cups of washed kale, chopped
2 Chorizo sausages, crumbled
2 strips of bacon, chopped
½ onion, diced
2 green onions, chopped
1 small tomato, seeded and diced
1 small carrot, diced fine
1/2 yellow pepper, diced
¼ cup olive oil
2 lemons
1 Tbsp sherry vinegar
Sea Salt, To taste
Black Pepper,To taste
Directions: In a large pot of boiling salted water par cook the sausages for 3 minutes, remove and chop. Place cook kale in the same water for 1 minute, remove and cool under cold water. In a small sauté pan warm the Clearwater Seafoods Sun-Dried Tomato Scallops & Sauce as per instructions and reserve. In a large sauté pan, cook bacon and when half way add chorizo, carrot   and onion and continue cooking until sausage and bacon are lightly browned and onion and carrot are tender. Add tomatoes and peppers for 30 seconds. – Add kale and mix well over the heat for 1 minute. Season well with salt and pepper and stir in juice and zest of lemon, sherry vinegar and olive oil.
Plating: On two large round plates make "nests" of the warm Kale salad and leave the center empty. Divide the Sun-Dried Tomato Scallops & Sauce between the two plates and sprinkle with green onions Grate fresh Parmigiano cheese over the top if desired. Serves 2 Portions.
Chefs Note: For a lighter version omit bacon and sausages and use Olive oil to sauté the onion and carrot
Carbonara with Clearwater Garlic Cream Scallops & Sauce
Ingredients:
1 pkg. of Clearwater Garlic Cream Scallops & Sauce
½ Cup bacon lardons
1 tbsp. garlic, minced
½ cup onions, diced
¼ cup white wine (if desired)
2 tbsp. olive oil
2 egg yolks
15 oz. fettuccini, cooked
½ cup Parmesan Reggiano, finely grated
2 green onions, chopped on bias
2 tbsp. butter, unsalted
1 tsp. pepper, black
Sea salt to taste
Directions:
In a large pot of boiling salted water, cook the fettuccini pasta until al dente. Drain and toss with 1 tbsp. of olive oil. In a large skillet on medium high heat, add chopped bacon and cook until slightly crispy, remove and set aside. Add 1 tbsp. of olive oil to the skillet and add diced onions. Sweat then add minced garlic and wine if desired. In a small sauté pan warm the scallops and sauce as per instructions. Return bacon to skillet with the drained cooked fettuccini. Toss. In a small mixing bowl, beat egg yolks, slowing add Garlic Cream sauce and continue to beat fast. Do not let the eggs curdle. Add the egg mixture back to the Clearwater Garlic Cream Scallops & Sauce and stir into Fettuccini. Stir in the Parmesan Reggiano, green onions and butter. Season to preference and enjoy. Serves 2 portions.
Rosemary Maple Bacon Wrapped Sea Scallops
Ingredients:
1 package Clearwater Bacon Wrapped Sea Scallops
1 cup maple syrup
4 tsp rosemary (finely chopped)
Directions: Thaw Clearwater Bacon Wrapped Sea Scallops in package for 15-20 minutes before cooking. Preheat grill to medium-high heat. Prepare sauce by combining maple syrup and finely chopped rosemary. Simmer for 2 minutes and let cool. Fold a 25-inch piece of foil in half. Spray one side generously with cooking spray. Place foil on grill greased side up and place scallops on foil (do not crowd.) Grill, lid down for 12-15 minutes, turning frequently, or until bacon is crisp and scallops are cooked. During the last 30 seconds, brush liberally with maple rosemary glaze. Let stand for a few minutes before serving.
For more info visit www.clearwater.ca