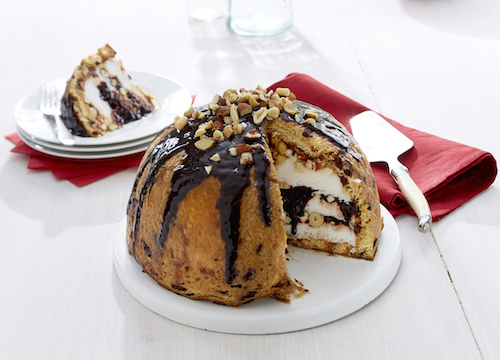 The holidays will be here before we know it and many of us will be adding baking and dessert planning to the long list of things to do for the season. From cakes to pies to ice cream treats, there is no better way to end a meal than with something satisfyingly sweet. Whether you're entertaining at a large family gathering or enjoying an afternoon in the kitchen with the kids, here are two new holiday recipes, courtesy of Smucker's, that will be sure to impress everyone at the table.
Perfected to complement any family dinner, the Panettone Ice Cream Ball is an impressive yet easy-to-make frozen dessert. Layered with Smucker's Chocolate Flavoured Syrup, ice cream, salted nuts and the traditional Italian holiday sweet cake, panettone, it's a dessert that will please even the pickiest family member and leave a lasting impression.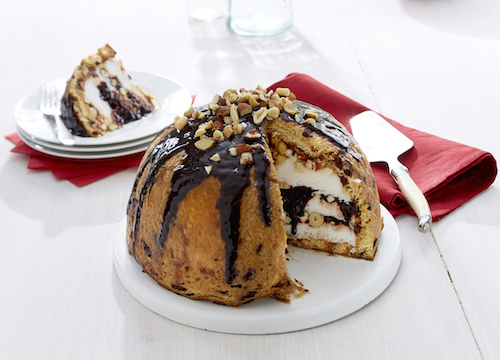 Panetonne Ice Cream Ball
Ingredients:
-1 ½ lb (750g) Panettone, (fruit studded Italian Christmas Cake), sliced, divided
-1 bottle (428mL) Smucker's ® Sundae Syrup™ Caramel Flavoured Syrup, divided
-2 cups (500mL) mixed salted nuts, divided, plus additional for garnish if desired
-3 ½ cups (875mL) vanilla ice cream or frozen yogurt, softened, divided
-1 bottle (428mL) Smucker's® Sundae Syrup™ Chocolate Flavoured Syrup, divided
Directions:
Line a 3.5L (3.5qt) freezer safe bowl with plastic wrap. Pour caramel syrup into medium sized bowl. Dip several slices of Panettone in syrup on both sides and then line in bottom and inside of bowl adding smaller pieces to fill in any holes if necessary. Fill with ¾ cup (175mL) mixed nuts and top with about 1 cup (250mL) of ice cream, followed by ½ cup (125mL) chocolate syrup. Repeat layering 3 more times, ending with Panettone. Trim edges if necessary. Wrap with plastic wrap and freeze until solid, about 3 hours. To serve, remove from freezer, let stand about 5 minutes, and invert onto serving plate. Remove plastic wrap, slice, drizzle with additional syrup and nuts if desired. Makes 20 servings.
Tips of the trade
• Use chocolate chip Panettone, strawberry syrup and chocolate ice cream.
• Can't find Panettone? Use leftover slices of your favourite cake, cinnamon rolls or sweet bread.
• Make ahead – this recipe can be made 1 month in advance.
Entertaining a house of kids? The Mini Trifle Ice Cream Cups are not only a simple and tasty dessert for the little ones, but it allows them to get imaginative and blend flavours to create their own! This recipe also serves as inspiration for your own dessert bar to entertain the family after dinner.
Mini Trifle Ice Cream Cups
Ingredients:
-1 ½ cups (375mL) cake cubes, divided
-1 cup (250mL) chocolate chip mint ice cream, divided
-3 tbsp (45mL) Smucker's Sundae Syrup™ Strawberry Flavoured Syrup
-Smucker's Sundae Syrups™ Chocolate and Caramel Flavoured Syrups for garnish
-Crushed Candy Canes, whipped cream, maraschino cherry, silver fairy dust for garnish
Directions:
Line bottom of mini trifle bowl with 1/3 of cake cubes. Top with 1/3 of ice cream followed by strawberry syrup. Top with another layer of cake, 1/3 of ice cream, and remaining cake. Scoop remaining ice cream on top, drizzle with chocolate and caramel syrups. Decorate with whipped cream, crushed candy canes and top with cherry. Or add your family's favourite candy toppings to personalize the dessert. Makes 1 serving.
Tips of the trade
• Try this with chocolate cake, vanilla ice cream, chocolate and caramel syrups.
• Use your favourite holiday cookies: gingerbread cookies, caramel syrup and vanilla ice cream, shortbread cookies, chocolate ice cream, crushed chocolate bars and chocolate syrup.
• Have your kids make customized trifle cups for each of your guests.
Smucker's can be purchased for $3.69 to $4.49 at major retailers across Canada. For more info and recipes visit www.smuckers.ca