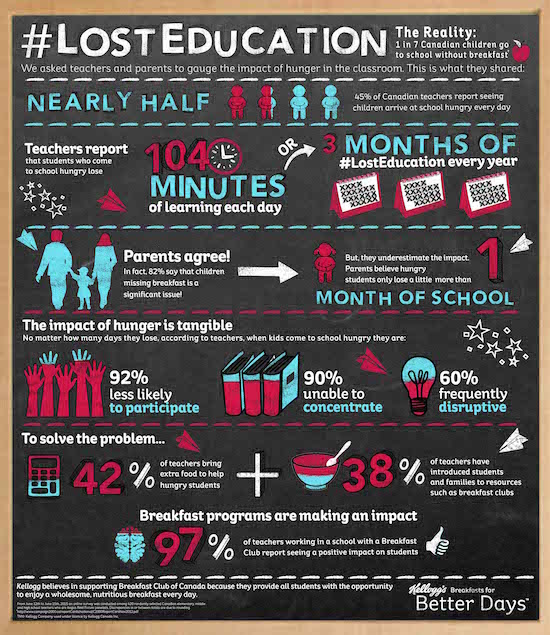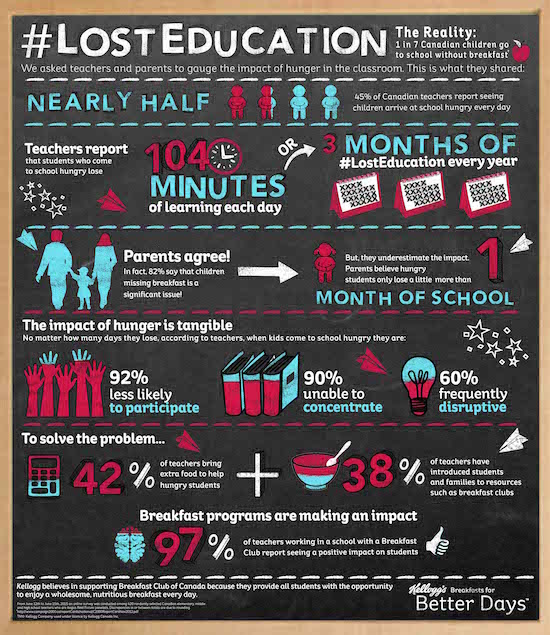 With another school year just around the corner, it's time to shift the focus back to learning, but for the one in seven children going to school each day without breakfast, learning can be a challenge. In fact, according to the second annual Kellogg's Breakfasts for Better Days Survey of Canadian teachers, students who miss breakfast lose an average of 104 minutes of learning every single day. That's 61 days or more than three months of class time lost each year.
The survey found that an overwhelming 92% of teachers agree that hungry students participate less frequently; 90% say that those same students are unable to concentrate in the classroom and 78% of Canadian educators assert that they are more lethargic than their peers. Even more harrowing, nearly half of all teachers (43%) report witnessing hungry students stealing food from their classmates to quiet their growling stomachs. And, 74% of teachers shared that students who are in need avoid admitting that they need help.
To ensure no child is sent to school on an empty tummy, Kellogg's has made a global commitment to help end hunger in the classroom through its Breakfasts for Better Days initiative and will be donating one billion servings of cereal and snacks, half of which are breakfast, to children and families in need by the end of 2016.
To raise awareness of how hunger affects learning, Kellogg Canada has developed the Reverse Hunger online video and the #LostEducation infographic, both of which vividly depict the depth of struggle a child experiences when he or she is hungry. Canadians everywhere are encouraged to share Reverse Hunger and the infographic on their social networks using hashtag #LostEducation.
For more info about Kellogg's Canada visit www.kelloggs.ca