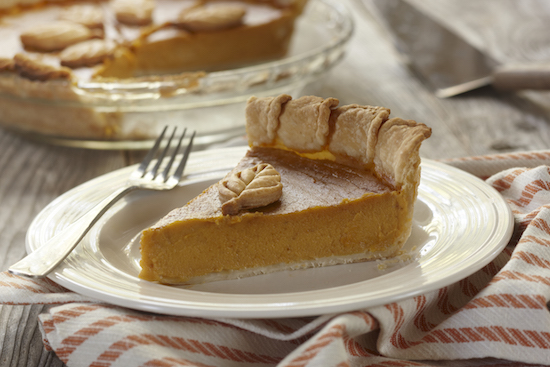 Thanksgiving may be a holiday that we share with our neighbours to the south, but the way we celebrate it is all our own. We don't give thanks in November (October's where it's at!) and it's not all about football, turkey pardoning and parades with Canadians. We simply like good friends, good family, and good food.
Carnation Evaporated Milk recently polled Canadians about a turkey-day staple – good old-fashioned, rich-and-creamy pumpkin pie – and discovered that 64% feel this dessert is essential to our turkey-day dinner feast. In addition, 68% consider pumpkin pie delicious, and 61% would consider making one if they knew it was easy. And, guess what? It is!
Ingredients:
1 can (354 mL) Carnation  regular or 2% evaporated milk
1 pastry for 10-inch (25 cm) single-crust pie
1 3/4 cups (425 mL) pumpkin pureé
1 cup (250 mL) packed brown sugar
2 eggs
2 tbsp (30 mL) Robin Hood  original all-purpose flour
1 tsp (5 mL) cinnamon
1/2 tsp (2mL) ground ginger
1/2 tsp (2mL) ground nutmeg
1/4 (1 mL) ground cloves
1/2 tsp (2 mL) salt
Directions: Preheat oven to 350°F (180°C). On floured surface, roll out pastry to 1/8-inch (3 mm) thickness. Fit pastry into 10-inch (25 cm) pie plate; press into bottom and up sides of plate. Trim overhang and flute edges. Whisk together pumpkin purée, sugar, eggs, flour, spices, and salt in large bowl until smooth and well combined; gradually whisk in evaporated milk. Fill pie shell with evaporated milk mixture. Bake in bottom third of oven for 60 to 70 minutes or until set. Let cool completely on rack. 
Tip: Pies can be covered with plastic wrap and refrigerated up to 3 days or frozen up to 1 month.
More fun results from Carnation Poll:
– More than three-quarters (76%) of Canadians agree that they would re-try pumpkin pie if someone else made it for them;
– More than two-thirds (67%) say that for pumpkin pie to be delicious it needs to be rich and creamy;
– Slightly more than one-third (36%) of Canadians know that Carnation Evaporated Milk can be used to make rich and creamy pie;
– Nearly six-in-ten (58%) Canadians said the last time they tried pumpkin pie they liked it, because pumpkin pie is delicious;
– 52% of Canadians feel a Thanksgiving meal doesn't feel complete without pumpkin pie.
For more info and recipe ideas visit  www.carnationmilk.ca