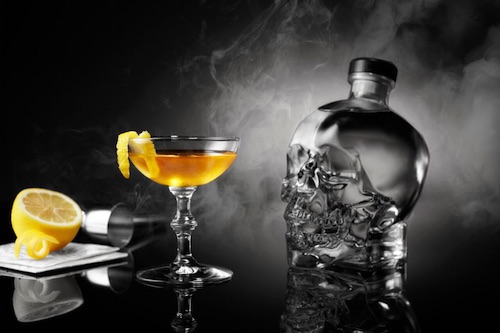 Nothing suits Halloween better than ghouls and skulls…but when those skulls are filled with vodka, that's a Halloween fete you don't want to miss! Below are three devilish tasting cocktails from Crystal Head Vodka that create the perfect spook-tastic ambiance for a chilling Hallows' Eve. Enjoy, if you dare.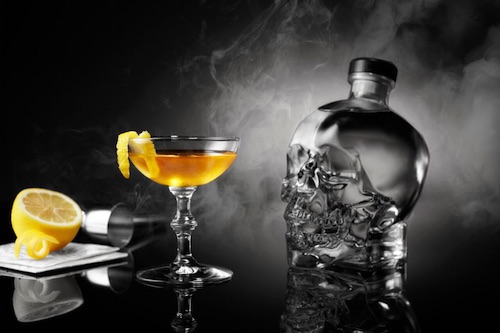 Bittersweet Endings 
- Double, double, toil and trouble, this delightfully bitter cocktail packs a haunted punch.
Ingredients
2 oz. Crystal Head Vodka
1 oz. Bénédictine
Angostura bitters
Directions: Mix all ingredients in a shaker with ice and stir gently. Strain into a chilled coupe glass. Garnish with a lemon twist.
The Last Tango
 – Cue music… spooky organ music. The refreshing tangerine, lemon and ginger found in The Last Tango will have everyone's taste buds dancing.
Ingredients
1.5 oz. Crystal Head Vodka
2 oz. fresh tangerine juice
0.5 oz. Domaine de Canton Ginger Liqueur
1 oz. freshly squeeze lemon juice
1 oz. ginger simple syrup
Directions: Add all ingredients into a shaker filled with ice. Shake vigorously and strain into a chilled martini glass. Ginger simple syrup: Peel one large piece of ginger root and cut into thin rounds. Add equal parts sugar and water with the ginger slices. Bring to a boil, ensuring not to scorch the sides. Reduce heat and simmer for five minutes, then remove mixture from heat. Allow to steep for 30 minutes while mixture cools. Strain and discard ginger. Syrup can last up to two weeks in the refrigerator.
Crystal Clear
 – For the purists at your party.  Pour over ice and focus on more haunting tasks at hand.
Ingredients
2 oz. Crystal Head Vodka
Directions: Add Crystal Head to a rocks glass over ice. Garnish with a lime wheel.
For more info visit www.crystalheadvodka.com   @crystal_head twitter.com/crystal_head