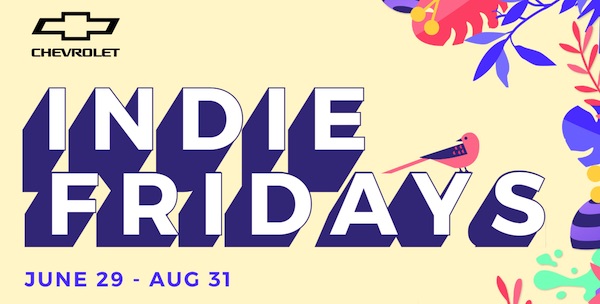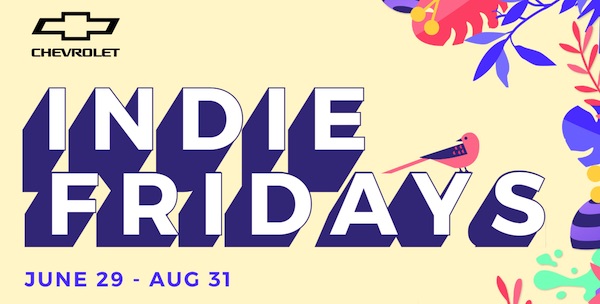 Where: Yonge-Dundas Square
When: June 29 – August 31, 2018
Cost: Free
Details: Score big at Yonge-Dundas Square (YDS) with Chevrolet Indie Fridays, the popular multicultural free concert series every Friday night in the Heart of the City. Join YDS on the sunny side of the street for ten weeks of performances from Canada's brightest artists! Beer Garden service begins at 7pm and WiFi at YDS is always free.
And, each week two Canadian graffiti artists will come together to showcase their unique creative style and individuality while drawing inspiration from the music of the week. The canvas for their art will be a wrapped Chevrolet Cruze Sedan that will provide a striking visual amidst the vibrant lights and sounds of the Square.
June 29: Electronica – DJ Shub w/ Datu & hey! dw
July 6: Folk – The East Pointers w/ Megan Bonnell & The Young Novelists
July 13: Country – The Reklaws w/ Leah Daniels
July 20: Combo of acts – Chloe Watkinson w/ Shred Kelly, The Achromatics & Carol Ellyn
July 27: "Girl Power" – Lydia Ainsworth w/ Iskwé & POESY
August 3: Reggae – Sattalites w/ Fujahtive with RaLion
August 10: Rock n' Roll – The Harpoonist and The Axe Murderer w/ Texas King & Johnson Crook
August 17: Punk – The Flatliners w/ PKEW PKEW PKEW & The Penske File
August 24: Funk – After Funk w/ KC Roberts and The Live Revolution
August 31: Hip-hop – Clairmont The Second w/ The Dirty B-Sides
More Info: www.YDSquare.ca @YDSquare