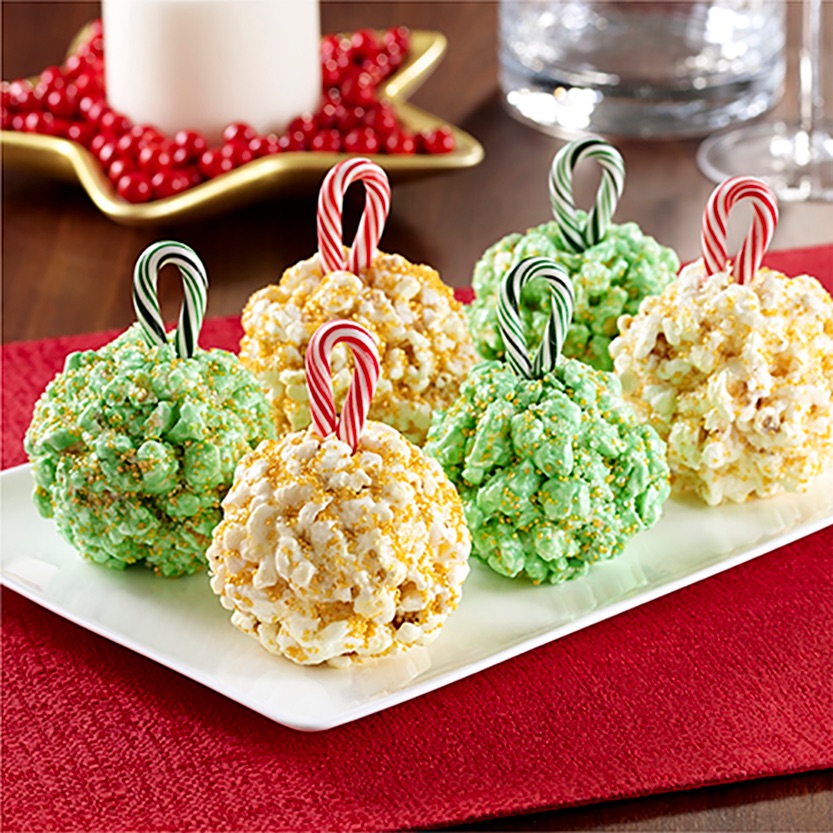 What: The holiday season is finally upon us and is notoriously known as a time to treat yourself. Orville Redenbacher microwave popcorn is the perfect base for creating fun and festive snacks, when you're hosting or just as a treat for yourself. Here's a holiday recipe made with kernel corn to resemble holiday ornaments when decorated with festive coloured sugar and candy for the ornament tops!!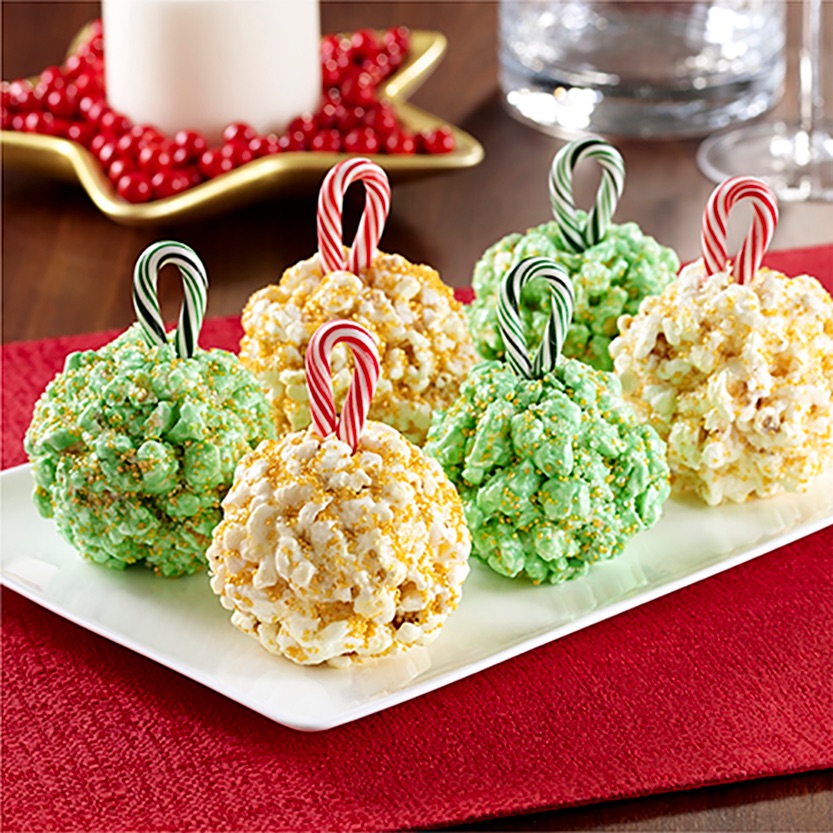 Holiday Kernel Popcorn Balls
Ingredients:
PAM Original No-Stick Cooking Spray

1 bag (82g) Orville Redenbacher's Gourmet Buttery Microwave Popcorn 

4 cups (1L) miniature marshmallows, divided 

1/4 cup (60 mL) butter, divided 

15 drops green food coloring 
Coarse colored sugar and candy canes or gum drops, optional
Directions:
 Spray large bowl, rubber spatula and piece of waxed paper with cooking spray; set aside. Pop kernel corn according to package directions. Remove all un-popped kernels and place half of popped corn (about 8 cups/2L) in bowl. Place 2 cups (500 mL) marshmallows and 2 tablespoons (30 mL) butter in microwave-safe bowl; microwave on HIGH 45 seconds or until marshmallows melt and mixture blends when stirred. Stir in food coloring. Pour marshmallow mixture over popped corn in bowl. Toss with greased rubber spatula to coat. Divide mixture and shape into 6 balls. Place on waxed paper. Decorate with coarse sugar and candy canes or gum drops, if desired. Repeat above steps with remaining popped corn, marshmallows and butter to make uncolored popcorn balls. Decorate with sugar and candy, if desired.
About: Orville Redenbacher's line-up of microwavable popcorn includes the following flavours and pack-sizes:
-Extra Buttery – Available in 3, 6, 10 & 24-pack formats
-Buttery – Available in 3, 4, 6, 8, 10 & 24-pack formats
-New Simply Salted – Available in a 6-pack format
-Select White – Available in a 6-pack format
-Sweet & Salty – Available in a 6-pack format
-Light Buttery – Available in 6, 10 & 24-pack formats
-Smart Pop! (94% FAT FREE) – Available in 3, 6, 8 & 10-pack formats
Bonus: Canadians can also feel good choosing Orville Redenbacher Original Gourmet Popping kernels and Ready-to-Eat popcorn which are 100% whole grain, high in fibre, gluten-free, and made with no artificial colours or flavours.
Cost: Orville Redenbacher Simply Salted microwave popcorn is available nationwide at all major grocery retailers, drug stores and discount retailers. The suggested retail prices are as follows: 3-pack size ($3.49); 4-pack size, mini bags ($3.49); 6-pack size ($4.49); 8-pack size, mini bags ($4.49); 10-pack size ($6.99); 24-pack size ($11.99).
For more info and recipe ideas visit www.orville.ca. Share your love of popcorn with other Canadians on social media and follow Orville on Facebook and Instagram @OrvilleCanada.