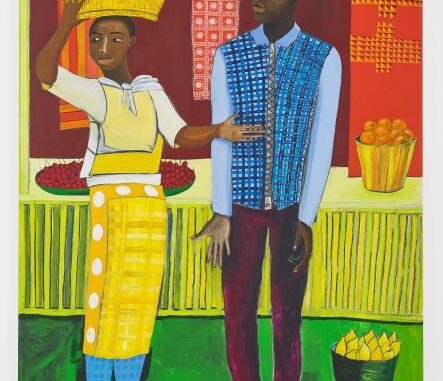 Where: Royal Ontario Museum, 100 Queens Park
When: July 1 – November 19, 2023
Cost: All special exhibition tickets include general admission. Admission to the Museum is time-ticketed; book your tickets online to reserve a time for your visit. ROM Members are required to reserve timed tickets ahead of visiting; these are free for Members.
Details: Royal Ontario Museum (ROM) invites visitors to examine the defining issues of our time from the perspectives of 25 women artists connected to the broader Islamic world in the new original exhibition Being and Belonging. This bold exhibition presents diverse voices and experiences of artists spanning the vast territory from West Africa to Southeast Asia, as well as from the wider Islamic diaspora. Deftly interrogating contemporary issues of identity, migration, power, sexuality and home, Being and Belonging provides deeply personal perspectives that will challenge preconceptions and disrupt stereotypes.
Curated by Dr. Fahmida  Suleman, Curator of the Islamic World collections at ROM and Dr. Silvia Forni, Director of the Fowler Museum at UCLA, this will be the first exhibition of its breadth and depth in North America that features a range of international and intergenerational women artists. Will showcase over 100 magnificent artworks, from global artists including Huda Lutfi, Lalla Essaydi, Lubaina Himid, Mona Hatoum, Shahzia Sikander, Shirin Neshat, CANAN, Shamsia Hassani and Sama Alshaibi, among others.
Organized in three thematic sections – Space, Movement, and Power – the exhibit will address issues of displacement, patriarchy, 2SLGBTQIA rights, spirituality and politics through mesmerizing and poetic works. Providing a kaleidoscope of viewpoints, these powerful artworks will reflect on universal themes through a range of media including painting, photography, graffiti art, textiles, ceramics, animation, mosaics and video installations.
Visitors will have the opportunity to experience artworks created by international artists from Afghanistan, Bangladesh, Canada, Egypt, Germany, Indonesia, Iran, Iraq, Italy, Lebanon, Morocco, Pakistan, Palestine, Saudi Arabia, Senegal, Syria, Tanzania, Turkey, UK, USA and Uzbekistan.
Unique in its scope, Being and Belonging will offer a rare glimpse into the worlds and lives of 25 contemporary women artists grappling with the most critical issues of our time. A fully illustrated catalogue featuring interviews with the artists that provides deeper insights into their creative practices and works will accompany the exhibition.
More Info: rom.on.ca/en/exhibitions-galleries/exhibitions/being-and-belonging @ROMtoronto @romtoronto