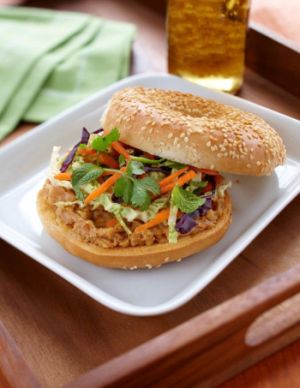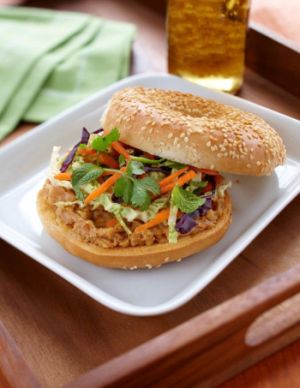 Canadians are passionate about their bagels. According to Dempster's Bagel Barometer, Canada's most bagel-loving province is Ontario (66%), closely followed by Atlantic Canada (61%) and Alberta (59%). And it comes as no surprise that our favourite bagel topping is cream cheese with the majority of us  preferring to go toasted.
The Dempster's Bagel Barometer also revealed personality differences between Canadian bagel lovers. Nearly 60% of us have a "Craver" personality meaning that sometimes we just gotta have one, followed by "Energizers" (25%) who love to start the day with a bagel hit. The remaining of us are either "Connoisseurs" who will take the time to create delicious new ways to enjoy their bagels or "Purists" who insist on eating their bagels the same way every time.
With National Bagel Day on February 9, perhaps its time to join the "Connoisseurs" and try something new. Bob Blumer, Food Network Canada host, has created some innovative bagel recipes that will take these round-shaped rolls to new heights. Here's a sneak peek at one of his recipes which features a mash-up of Thai flavours and the traditional Vietnamese Banh Mi sandwich.
Banh Mi Bagel
Ingredients:
– 1 Dempster's sesame bagel
– ¼ of a fresh coconut, or 1/3 cup unsweetened shredded coconut
– 1 cup crunchy or smooth peanut butter
– 2 tablespoons freshly grated ginger
– ¼ – ¾ teaspoon red chili flakes
– 2 tablespoons lime juice
– 1/3 cup shredded purple, green or Napa cabbage
– 1 medium carrot, peeled and shredded
– 2 tablespoons fresh mint or cilantro leaves, finely chopped (optional)
Directions:
– If using fresh coconut, remove coconut from shell and use a veggie peeler to peel off the tough brown outer skin. Use the medium side of a grater to shred 1/3 cup.
–  Add coconut to a medium bowl along with peanut butter, ginger, chili flakes and lime juice. Blend with a fork. Reserve.
– In a small bowl, toss cabbage, carrot and mint.
– To serve, toast, and if you choose, lightly butter bagel. Top with a generous spread of peanut butter mixture, and veggies.
– Remaining peanut butter spread will last in the fridge for 5 days in a tightly sealed container.
-Yield: 1 serving + enough peanut butter spread for 3 additional servings