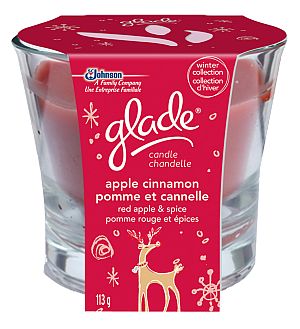 For most Canadians, the holidays are a chance to reconnect with family and friends in the most cherished gathering place – home. And nothing brings those special memories back like our favourite holiday scents, whether it's aromas of freshly baked cookies, homemade eggnog, fresh pine needles or Christmas apples.
This upcoming season, Glade®, SC Johnson's renowned air care brand, will be introducing a new limited edition Winter Collection to help set the festive mood in Canadian homes with captivating scents sure to bring back most cherished holiday memories.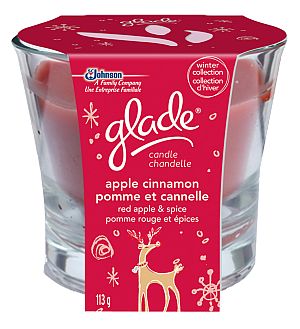 Glade® Winter Collection Jar Candle infuses any space with light, warmth and a delicious fragrance that sets the festive mood. The Jar Candle fragrance selection includes the following six delectable scents and scent combinations:
-Apple Cinnamon
-Shimmering Spruce
-Frosted Cookies™
-Nutcracker Crunch™
-2 in 1 Shimmering Spruce & Apple Cinnamon
-2 in 1 Apple Cinnamon & Creamy Custard™
The manufacturer suggested retail price is $5.09
Glade® Winter Collection Jar Candle is also available in a value pack of four (in Apple Cinnamon or assorted scents). The manufacturer suggested price is $12.99
Glade® Winter Collection Fragrance Mist is a sleek, stylish refillable home fragrance spray that will instantly create a festive mood with a long-lasting seasonal fragrance. The Fragrance Mist is offered in the following two festive scents:
-Fuji Apple & Cardamom Spice
-Holiday Pine & Bayberry™
The manufacturer suggested retail price is $4.99 (holder) or $4.19 (refill)
The Collection is available for a limited time this fall and winter on special displays at most food, drug and mass-merchandise stores across Canada.
For more info visit www.glade.ca or www.facebook.com/gladecanada