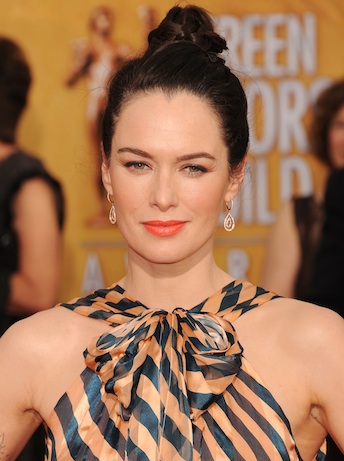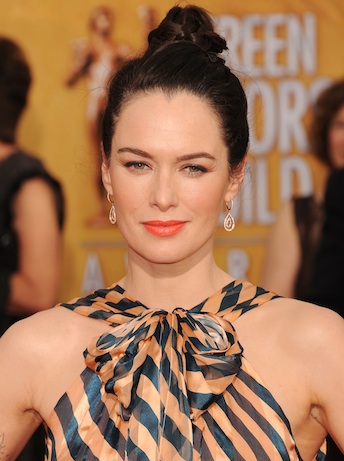 The stars once again impressed at this weekend's 20th Annual Screen Actors Guild Awards (January 18, 2014). Star of the SAG nominated HBO show, Game of Thrones, Lena Headey (Cersei Lannister) showcased an oh-so-easy and sleek topknot, courtesy of celebrity and Dove hair stylist, Mark Townsend.
Mark loved Lena's Jenny Packham dress and felt it had a 70's vibes to it; he wanted her hair to be a modern take on a 70's style  – the high bun was perfect. He shares his simple five-step process to recreate Lena's look at home.
1. I prepped her hair by adding a few drops of Dove Pure Care Dry Oil and then blow dried it with a round brush.
2. Next, I sprayed Dove Invigorating Dry Shampoo all over her hair to give the hair a cool texture.
3. Then I gathered the hair in a ponytail right at the crown of the head and braided the ponytail.
4. Once the braid was complete, I wrapped it around the base of the ponytail to create a bun and secured with bobby pins.
5. I finished by spraying Sally Hershberger Texture Blast all over and scrunched the bun with my hands to break it up a bit and add some hold.
Formulated with precious African Macadamia Oil leaving hair feeling 5x silkier, The New Dove Pure Care Dry Oil ($11.99 for 100ml) is part of the New Dove Pure Care Dry Oil Line-up which also includes Shampoo and Conditioner ($6.97 each for 355ml). Will be available in drug, mass and grocery nationwide January 30, 2014.
Dove Invigorating Dry Shampoo features a weightless formula designed to clean and transform lifeless hair, so you can enjoy fresh, volumized hair (Ranges in price from $4.99-$7.99)
For more info visit www.dove.ca