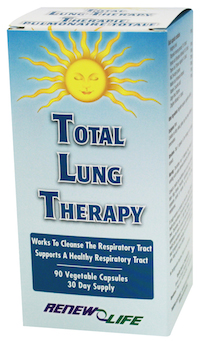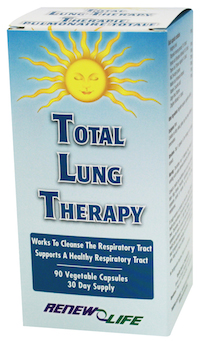 What: Renew Life Total Lung Therapy is a 30 day program that works to cleanse the respiratory system by expelling mucous from deep within. It also helps to soothe and heal the tissue of the respiratory tract as well as protect and strengthen the entire respiratory system. Ideal for smokers, ex-smokers, asthmatics, or anyone with lung issues.
About: Total Lung Therapy consists of powdered herbs and amino acids delivered in vegetable capsules. You may experience the need to clear mucous more frequently during the first 14 days. This is normal and beneficial. You may experience that it is easier to breathe (take in oxygen) and feel positive health benefits from increased oxygenation of the body. If you have chronic conditions such as asthma you may notice improvement in symptoms and find it easier to take in breath.
Bonus: Total Lung Therapy can also be used by people who are healthy to proactively cleanse and protect their lungs. It is perfect for people who live in large cities where air pollution is an issue as a preventative way to reduce the negative effects of long term exposure.
Where: The MSRP is $43.99 and is available at health food stores or natural food sections of major grocery stores and pharmacies across Canada. For more product info visit www.renewlife.ca.
**Consult a health care practitioner prior to use if you are currently have lung disease, bronchitis, uncontrolled asthma, or if symptoms persist or worsen. Do not use if you have emphysema.