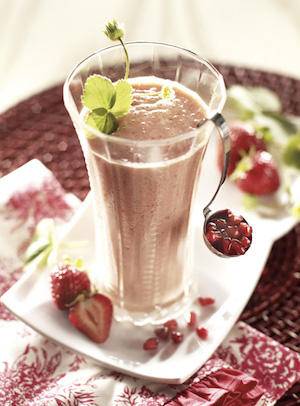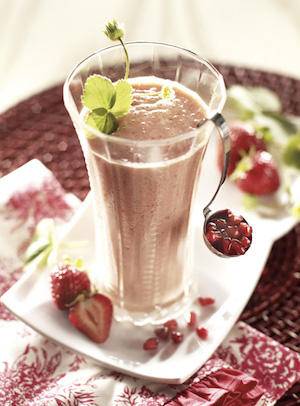 What: Almond Breeze beverage is a fantastic alternative to soy and dairy products. Features a creamy, smooth texture and hint-of-almond taste; a perfect ingredient in healthy smoothies, morning cereal, baking and much more.
About: In addition to its delicious taste, Almond Breeze beverage is a rich source of calcium and Vitamin E. Comes with the added assurance of a quality almond product from the almond people, Blue Diamond Almond Growers.
Bonus: Cholesterol free, lactose free, gluten free with no saturated fat. The new refrigerated offerings come in the following flavours: Original and Unsweetened Original, Vanilla and Unsweetened Vanilla.
Cost: Almond Breeze beverage is now available in the refrigerator section of your grocery store and also continues to be available on the shelf. Retails for $3.99 to $4.39.
Recipe: This easy-to-prepare nutritious smoothie, featuring Almond Breeze Vanilla flavour, is a great way to kick off your day!
Pomegranate Pow Smoothie
Ingredients
1 cup (250 mL) Almond Breeze Vanilla
1/2 cup (125 mL) pomegranate juice
1 cup (250 g) frozen unsweetened strawberries, partially thawed
1 ripe banana, peeled, sliced
Directions: Blend all ingredients in a blender until smooth. Pour into a glass and serve immediately. Yield: 2
Visit www.almondbreeze.ca for more info.