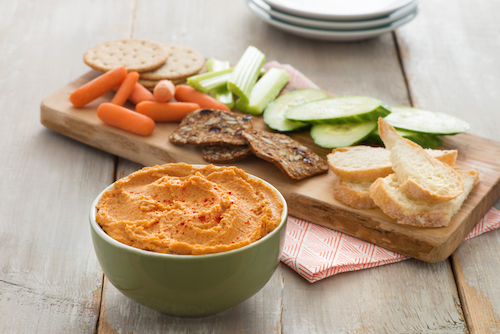 Almond Breeze has some new side dish recipes to help you put together a crowd-pleasing Thanksgiving menu that happens to be dairy-free, perfect for your guests with lactose issues. Here are a few recipes which are sure to give the smell of turkey wafting through the house some serious competition!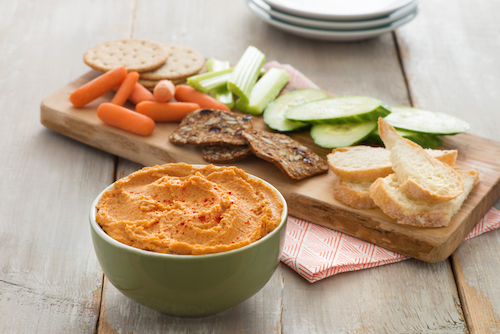 Sweet Potato Hummus
Roasted sweet potatoes and shallots are puréed with chickpeas for a sweet and savoury homemade hummus.
Ingredients
1 sweet potato, peeled and chopped (about 2 cups)
3 shallots, peeled and halved
4 cloves garlic, peeled
1/3 cup (75 mL) olive oil
3/4 tsp (4 mL) salt
1/2 tsp (2 mL) freshly ground pepper
1 can (540 mL) chickpeas, drained
1/2 cup (125 mL) Almond Breeze Vanilla
1/4 cup (60 mL) tahini
1/4 tsp (1 mL) each paprika and ground cumin

Directions: Toss together sweet potato, shallots, garlic, 2 tbsp (30 mL) of the olive oil and 1/4 tsp each salt and pepper. Spread on baking sheet; bake in 400°F (200°C) oven for 20 to 30 minutes until tender. Let cool. In food processor, purée sweet potatoes, shallots, garlic, chickpeas, Almond Breeze, tahini, remaining olive oil, remaining salt and pepper, paprika and cumin until smooth. Sprinkle with extra paprika before serving if desired. Serve with carrot and celery sticks, and whole grain crackers.
Cream of Carrot Soup with Almond Croutons
Simple, warming and delicious. The perfect creamy soup made even better with crunchy almond croutons!
Ingredients
2 1/2 lbs (1.125 kg) carrots, peeled and chopped
2 slices whole grain bread*
1 tbsp (15 mL) extra-virgin olive oil
2 tbsp (30 mL) sliced almonds
1/2 cup (125 mL) Almond Breeze Unsweetened Original
1/2 tsp (2 mL) fresh tarragon, finely chopped
1/2 tsp (2 mL) fresh sage, finely chopped
1/2 tsp (2 mL) sea salt, separated
1/2 tsp (2 mL) freshly ground black pepper, separated
Directions: Preheat oven to 350 ̊ F (180 ̊C). In a large pot, cover carrots with cold water and season with sea salt and pepper. Cover and bring to a boil, then reduce to low-heat and simmer for 25 minutes or until the carrots are tender. Remove from heat and allow to cool. Reserve 1 cup (250 mL) of the cooking water. Meanwhile, slice bread into 1/4 inch (5 mm) cubes to make croutons. Add cubed bread to a large mixing bowl with olive oil and sliced almonds. Gently toss to combine. Place croutons onto a baking sheet and bake in the oven for 15-20 minutes or until golden brown and crunchy. Transfer the carrots and 1 cup of cooking water to a blender; pulse until smooth. Add almond beverage, tarragon, sage and remaining sea salt and pepper; puree soup until well combined. Transfer soup to four serving bowls. Serve warm topped with almond croutons. *Recipe can be made gluten-free by using gluten-free bread.
Moroccan Quinoa Salad with Sweet Potato and Spinach
Ingredients
1 sweet potato, peeled and chopped
2 tbsp (30 mL) olive oil
1/4 tsp (1 mL) each salt and freshly ground pepper
2 cups (500 mL) cooked quinoa
2 cups (500 mL) fresh baby spinach
1/4 cup (60 mL) diced red onion
1/4 cup (60 mL) sliced dried apricots
1/4 cup (60 mL) sliced natural almonds
1/4 cup (60 mL) pomegranate seeds (arils)
2 tbsp (30 mL) chopped fresh cilantro
Dressing
1/2 cup (125 mL) Almond Breeze Unsweetened Vanilla
1/4 cup (60 mL) olive oil
2 tbsp (30 mL) lemon juice
1 tbsp (15 mL) Dijon mustard
1 clove garlic, minced
1/4 tsp (1 mL) each salt and freshly ground pepper
Directions: For dressing, in blender, combine Almond Breeze, olive oil, lemon juice, mustard, garlic, salt and pepper; blend until smooth. Meanwhile, toss together sweet potato, olive oil, salt and pepper; spread on baking sheet. Bake in 400°F (200°C) oven for about 30 minutes or until fork-tender; let cool. Combine sweet potatoes with quinoa, spinach, onion, apricots, almonds, pomegranate seeds and cilantro; toss with 1/3 cup (75 L) dressing. (Refrigerate remaining dressing for another use.)