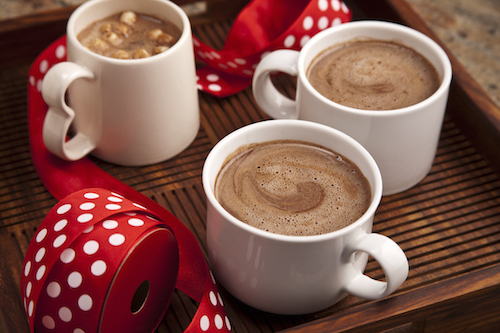 This holiday season, give those traditional family recipes a delicious almondy-twist and have your party guests raving into the New Year. Here are a couple of our sweet seasonal favourites from Almond Breeze, which are sure to please guests of all ages, including those who are lactose free.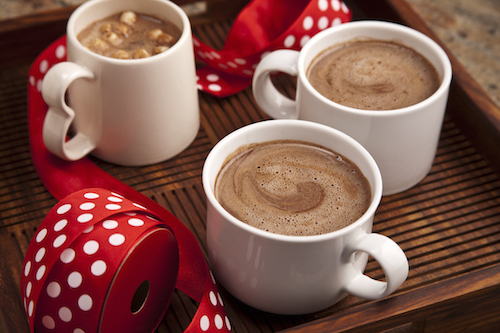 Ultimate Hot Chocolate
Ingredients:
2 cups Almond Breeze Original
1/3 cup Bittersweet or Milk Chocolate Chips
2 tbsp miniature marshmallows
Directions: Heat almond beverage, chocolate chips and 1 tbsp of miniature marshmallows in a small saucepan over medium heat until chocolate and marshmallows are melted, stirring frequently. Pour mixture into large mugs for serving and top with remaining miniature marshmallows.
Variations: Chocolate Mocha: Stir in 1 tsp instant espresso powder.
Mexican Mocha: Chocolate Mocha, adding a generous pinch of cinnamon.
Chocolate Caramel: Omit marshmallows and stir in 4 caramel candies.
Almond Berry Bars
Ingredients:
3 cups Old-Fashioned Rolled Oats
1/2 cup Almond Flour
1/4 tsp Sorghum Flour or Whole Wheat Flour
1/2 cup Oat Bran
1/2 cup Ground Flaxseed
1/2 cup Roasted, Chopped Almonds
1/2 cup Dried Blueberries
1/2 cup Chopped, Dried Cranberries
1/2 tsp Salt
1 cup Agave Nectar
1/3 cup Natural Almond Butter
1/4 cup Almond Breeze Original
2 tsp Pure Vanilla Extract
Directions: Preheat the oven to 325°F (160°C). Lightly coat a 13" x 9" (3L) baking pan with olive oil cooking spray. Set aside. In a large mixing bowl, combine oats, flours, bran, flaxseed, almonds, blueberries, cranberries, and salt. Stir to combine well. Set aside. In a small saucepan, warm the agave nectar, almond butter, and almond beverage over low heat until well blended. Do not boil. Remove from the heat and stir in the vanilla extract. Add the warm butter mixture to the dry ingredients and quickly stir the mixture until it is well combined. Pat into the prepared pan. Press firmly with your hands to remove any air pockets. Bake for 30 minutes, or until light golden brown. Cool for 10 minutes, and then cut into 32 bars. When just cool enough to handle, remove bars from the pan to a cooling rack. Store in airtight container in the refrigerator for optimal freshness.