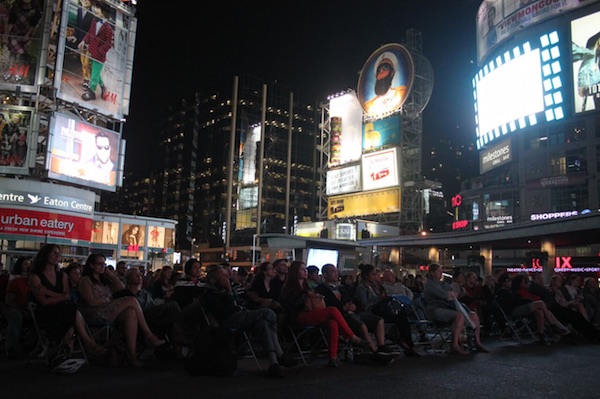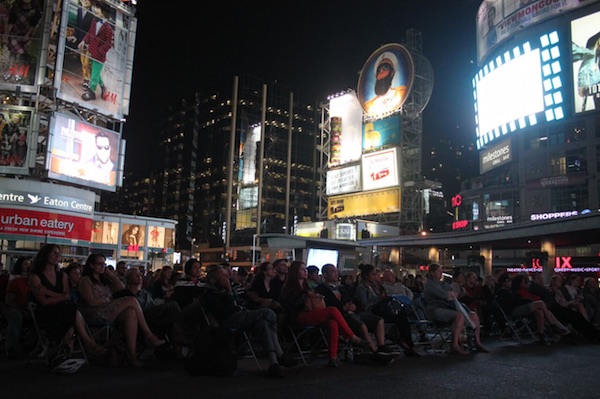 Where: Yonge-Dundas Square (YDS)
When: Continuing Every Tuesday Until August 30, 2016
Cost: Free
Details: YDS is known for bringing free movies and music to The Heart of the City in Toronto. Canada is known for overwhelming politeness and hilarious comedic actors. So it's only natural to combine The Heart of the City and hilarious actors for City Cinema! Every Tuesday at sunset, Torontonians are invited to grab a chair at YDS and enjoy an evening of timeless comedies.
On Tuesday, August 2 YDS will present Stripes (1981) starring Bill Murray, John Candy and Harold Ramis in the story of a man who wanted to keep the world safe for democracy    . . . and meet girls.
On Tuesday, August 9 there will be a double feature of SNL alum with Wayne's World (1992) starring Mike Myers, Dana Carvey, Tia Carrere and Rob Lowe, and The Ladies Man (2000) starring Tim Meadows, Will Ferrell and Tiffani Thiessen.
On Tuesday, August 16 love will be in the hair when There's Something About Mary (1998) starring Cameron Diaz, Ben Stiller, Matt Dillon and Chris Elliot plays at YDS.
On Tuesday, August 23 Torontonians will get their fill of a fat man in a little coat with Tommy Boy (1995) starring Chris Farley, David Spade and Dan Akroyd in the film that teaches audiences: if at first you don't succeed, lower your standards.
On Tuesday, August 30 Leslie Nielsen will take over the Square with Airplane!, co-starring Kareem Abdul-Jabbar and Lloyd Bridges (1980), and Dracula: Dead and Loving It (1995) co-starring Mel Brooks and Peter MacNicol.
A short film programmed by the National Film Board of Canada (NFB), Canada's twelve-time Academy Award-winning public film and digital media producer and distributor, will precede each feature screening. Short films will include Christopher, Please Clean Up Your Room! (July 5); Congratulations, Mr. Levy and Monsieur Pug (July 12); The Apprentice and Village of Idiots (July 19); The Invasion of the Space Lobsters (July 26); The Big Snit (Aug 2); William Shatner Sings O Canada and Canadian Famous (Aug 9); The Cat Came Back (Aug 16); Bob's Birthday (Aug 23); Runaway and Ashes of Doom (Aug 30).
Previously announced films scheduled this month include, Coming to America (July 5), For Your Consideration and Best in Show (July 12), Monty Python and the Holy Grail and The Jerk (July 19), and Spaceballs (July 26).

More Info: For the full schedule of free summer events at YDS, please visit www.YDSquare.ca.