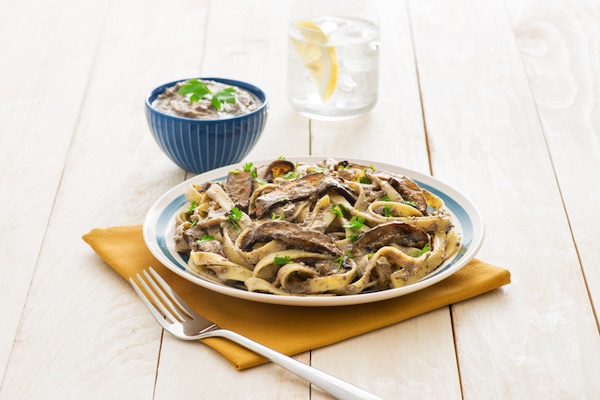 Almond Breeze is a delicious almond beverage alternative to dairy that is lactose and gluten free, and can add an almond-y twist to a classic recipe or enjoy as a standalone product. Here is one of our favourites!
Fettuccine with Creamy Mushroom Ragu
Ingredients
12 oz (375 g) fettuccini

2 tbsp (30 mL) olive oil 

2 shallots, finely chopped 
 
2 cloves garlic, minced

1 lb (500 g) mixed mushrooms, sliced

1 tbsp (15 mL) chopped fresh rosemary 

1/4 tsp (1 mL) each salt and freshly ground pepper 

1 cup (250 mL) Almond Breeze Unsweetened Original

1 tbsp (15 mL) lemon juice 

1 tsp (5 mL) finely grated lemon zest 

1/4 cup (60 mL) finely chopped fresh parsley 

Directions: Cook fettuccini according to package directions; drain, reserving 1/3 cup (75 mL) pasta water. Meanwhile, in large skillet, heat oil over medium-high heat; cook shallots and garlic for 2 minutes. Add mushrooms, rosemary, salt and pepper; cook for 6 to 8 minutes or until mushrooms are tender. Transfer half of the mushrooms to blender along with Almond Breeze, lemon juice and lemon zest; purée until smooth. Stir mushroom purée into skillet with sliced mushrooms until combined; cook for 2 or 3 minutes or until heated through. Add pasta and pasta water to skillet; cook for 2 minutes or until pasta is evenly coated and liquid has evaporated slightly. Divide evenly among 4 plates; garnish with parsley.
For more info visit @AlmondBreeze  www.almondbreeze.ca