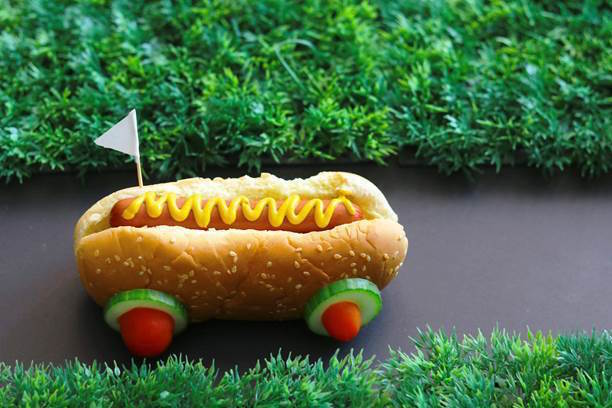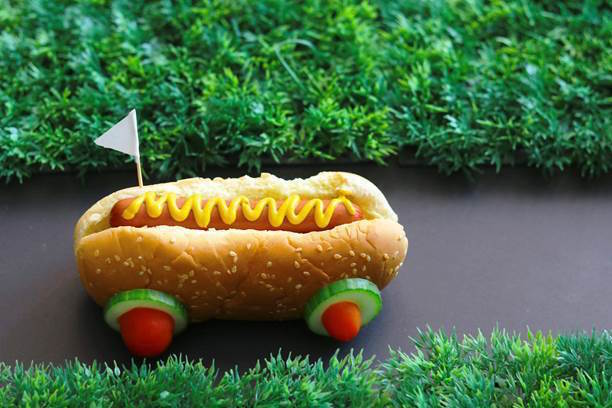 Looking for a fun way to incorporate healthier foods while keeping the kids engaged and entertained this long weekend. Get their creative juices flowing with Hot Dog Art featuring vegetables and fruits along with Maple Leaf Natural Top Dogs! Here's our favourite food art recipe idea courtesy of Maple Leaf Foods:
Hotdog Car
Ingredients:
1 Maple Leaf Natural Top Dog
1 hotdog bun
Mustard
1/4 cucumber cut into 4 rounds
2 cherry tomatoes cut in half 
 
Instructions: Open hotdog bun, being careful not to split apart. Place cooked hotdog in the bun. Using a toothpick, poke into the cherry tomato in the centre (this is the firmest part and will hold the toothpick) and slide cucumber round onto it (tomato should be the centre of the cucumber to look like a wheel). Repeat 3 more times and place the cucumber wheels into the front and back of the bun on both sides. Squirt mustard (or favourite condiment) onto hotdog.
Maple Leaf Top Dogs are made with real, simple, natural ingredients that you can pronounce, without compromising on taste, making them a great choice for the whole family to enjoy. Available at Loblaws ($3.99), No Frills ($4.49) and Metro ($4.49). For more info visit www.mapleleaf.ca.