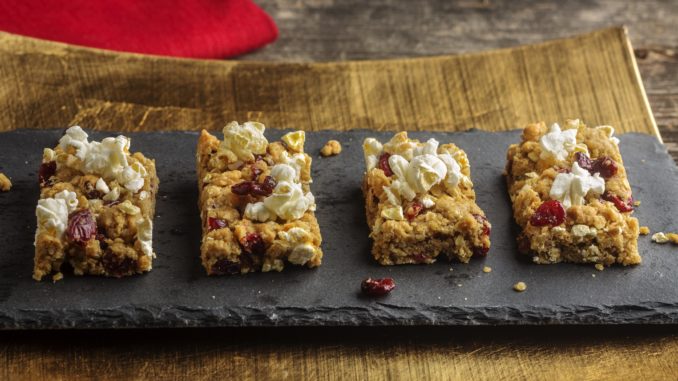 What: Orville Redenbacher has been one of the world's most trusted companies for 50 years, and over time they have created the perfect snack to enjoy guilt-free.
Bonus: Has no artificial colours, flavours or preservatives, is made with 100% whole grain non-GMO popcorn and is a high source of fibre.
About: With families spending more time than ever at home, snacking still remains important to us all! Orville is offering up some recipe ideas to those who are looking for alternative, healthier snack options. Here's our favourite recipe pick featuring the great taste of oatmeal cookies, dried cranberries and Orville Redenbacher's popcorn in one deliciously crunchy bar!
Orville's Power Crunch Bars
Ingredients:

PAM Original No-Stick Cooking Spray 

1-1/2 cups quick-cooking rolled oats

3/4 cup all-purpose flour

1/2 teaspoon baking soda

1/2 teaspoon ground cinnamon 

1/4 teaspoon salt 

1 bag (99 g) Orville Redenbacher's Smart Pop! 100 Calorie Buttery Flavour Microwave Popcorn 

3/4 cup firmly packed brown sugar 

1/2 cup margarine, softened (1/2 cup = 1 stick) 

1 tablespoon water
1 teaspoon vanilla extract

3/4 cup dried cranberries
Directions: Preheat oven to 375°F. Spray 15×10-inch shallow baking pan with cooking spray. Combine oats, flour, baking soda, cinnamon and salt in medium bowl; set aside. Prepare popcorn according to package directions. Remove all unpopped kernels; set aside. Combine brown sugar and margarine in large bowl using electric mixer on high speed. Add water and vanilla; beat until light and fluffy. Gradually add flour mixture; blend well. Reduce speed to low; add cranberries. Cover hands with plastic gloves or sandwich-size plastic bags; spray with cooking spray. Incorporate popped corn into cookie dough. Spread mixture in pan. Bake 10 to 12 minutes or until golden brown. Cool before cutting into 24 bars. Store bars in tightly sealed container.
More Info: For more recipe ideas visit www.orville.ca. Share your love of popcorn with other Canadians on social media and follow Orville on Facebook and Instagram @OrvilleCanada.