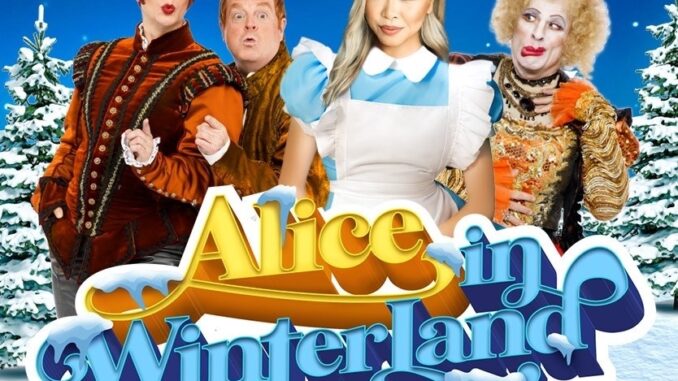 Where: Online Streaming
When: December 18 & 19, 2021
Cost: Tickets are $35 per household for 48 hours of unlimited viewing. To purchase visit rosspetty.com
Details: The holiday season wouldn't be the same without the annual Ross Petty Productions family musical, so for the second year, the holiday "Panto" goes virtual with a brand-new production, Alice in Winterland. Double the fun with this year's  Choose Your Own Adventure for an interactive one-of-a-kind theatrical experience.
Meet Allie, proprietor of Allie's Shroom Room, an artisanal mushroom shop on the other side of the rabbit hole in Wonderland. The same day Allie is planning her big store opening, the evil ice witch Frostina and her long-suffering architect Algor show up to ruin everything. Frostina declares herself the villain of Wonderland and sets her plan in motion to turn Wonderland into a sub-zero wasteland, known forthwith as Winterland.
Plumbum – who had just dropped into the shop for some shrooms on her way to her time share vacation at Wonderland castle – join forces with Allie and the at-home viewers to stop Frostina and save Wonderland. Will they end up on the Field of Flying Elephants or in the Mellow Marsh? Will they find the elusive ChesPfizer Cat  or stop for a TikTok dance party with the Mad Hatter? The audience chooses their own adventure while cheering for Allie and booing Frostina!
Kimberly-Ann Truong (Miss Saigon on Broadway, Columbia in Rocky Horror Picture Show, Stratford Festival) makes her panto debut as Allie. Dan Chameroy (Miss Trunchbull MATILDA, the Musical, North American Tour, Frank-N-Furter in Rocky Horror Picture Show, Stratford Festival) will portray the iconic Plumbum for the eighth time. Eddie Glen, a true triple threat will mark his 19th appearance with Ross Petty Productions as Algor. Sara-Jeanne Hosie (Alison in Fun Home, Arts Club Theatre Company) as Frostina, is the villain who loves to be booed. Canadian Screen Award-winner Thom Allison (Killjoys, Space Channel/Syfy) makes a special appearance as the Chespfizer Cat.
Written by Matt Murray and directed by Mike Fly and Tracey Flye.
More Info: rosspetty.com @rosspettypro  @rosspettypro