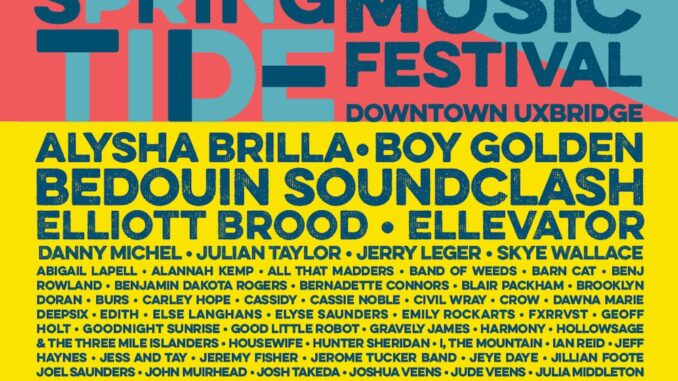 Where: Variety of unique venues on a 1.4km strip in downtown Uxbridge
When: July 21-23, 2022
Cost: Tickets and wristbands are on sale now at springtide.tickit.ca
Details: Launched in 2018, Springtide Music Featival is an artist-run, grassroots festival with over 70 artists on Specialty Stages and in partner venues in downtown Uxbridge. This year, the festival  will open with the Springtide Launch Party on July 21 at Uxbridge Music Hall with Bedouin Soundclash, Julian Taylor and local Uxbridge artist Tania Joy.
The outdoor mainstage will now be located downtown at Centennial Park with performances by Alysha Brilla, Skye Wallace, Jeremy Fisher, Ellevator, Housewife and more. The original venue, The Second Wedge Brewing Co., was unfortunately damaged in the recent devastating storm that affected the Uxbridge community.
Will also feature speciality stages including:  Springtide Youth Stage on Saturday afternoon at Uxbridge Legion; the Let's Write a Song! youth workshop with  Bernadette Connors on the Workshop Stage at The Bridge Social; and the Authors Stage at Blue Heron Books with author Michael Barclay talking about his recent book "Hearts on Fire".
This year's Festival will include performances by Abigail Lapell, Alysha Brilla, Band of Weeds, Bedouin Soundclash, Benj Rowland, Benjamin Dakota Rogers, Boy Golden, Brooklyn Doran, Cassie Noble, Danny Michel, Emily Rockarts, Housewife, Goodnight Sunrise, Gravely James, Hollowsage & the Three Mile Islanders, Jeremy Fisher, Jerome Tucker Band, John Muirhead, Julien Kelland, Kennedy Road, Kevin Ker, Lindy Vopnfjörd, Matt Gunn, Stephen Stanley Band, Tania Joy and many more!

More Info: www.springtidemusicfestival.com  @springtidemusicfest  @springtide_fest