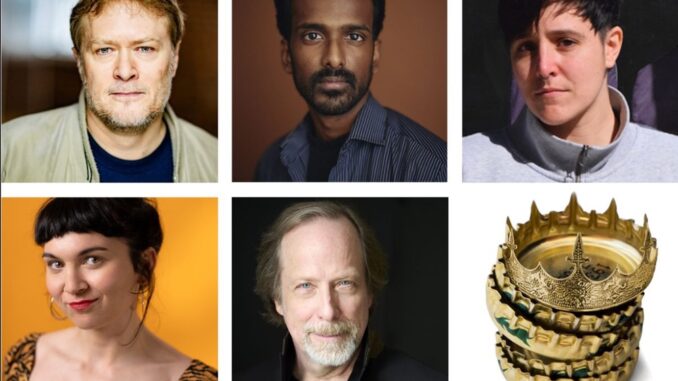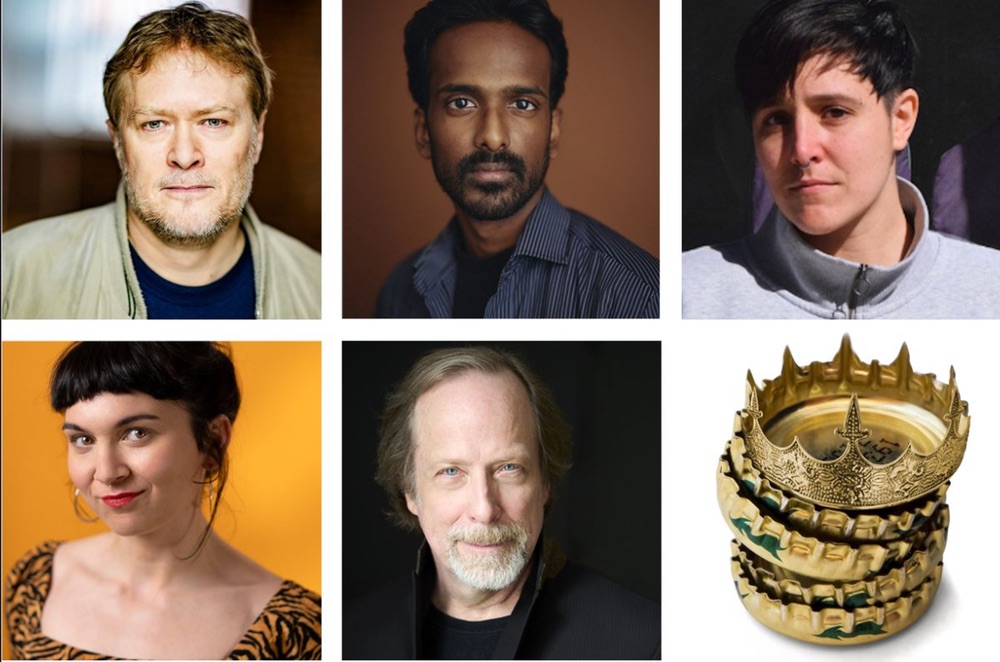 Where: Southern Ontario
When: July 14 – August 21, 2022
Cost: All tickets are PWYC afford ($5, $35, $50, $75) and can be purchased online at driftwoodtheatre.com
Details: Driftwood Theatre Group returns to the road with their annual The Bard's Bus Tour presenting King Henry Five. An ambitious adaptation of three Shakespeare plays (Henry IV pts 1 & 2, Henry V), King Henry Five is a powerful story about community, the families we inherit and those we choose, and the legacies we leave behind.
Set against the backdrop of an contemporary patio bar and featuring  Driftwood's signature blend of music, puppetry and Shakespeare's captivating poetry, King Henry Five rolls into outdoor community spaces across Ontario this summer.
This compelling saga will be told with a cast of only five performers. Led by Driftwood's Founding Artistic Director, D Jeremy Smith the cast includes celebrated Canadian theatre veteran Hume Baugh as Falstaff, Richard Alan Campbell  as Quickly/Henry IV,  Ximena Huizi as Poins/Hotspur, and emerging theatre artists Rosalie Tremblay  Driftwood as Catherine/Bardolph and Ben Yoganathan as Hal/Henry V. The production is designed by Julia Kim Night's Dream, and features seven original songs with lyrics by Germaine Konji and music by Kelsi James.
King Henry Five Bard's Bus Tour 2022 Confirmed Schedule
Previews:
July 14- Wolfe Island at The Hotel on Wolfe Island
July 15 – Kingston Lions Civic Gardens
July 19 – Bowmanville at Visual Arts Centre of Clarington
Opening Night  – July 20 –  Oshawa at Parkwood Estate
July 21-23 –  Toronto at Withrow Park
July 24 –  St. Catharines at FirstOntario Performing Arts Centre
July 26 –  Mississauga at Thorn Lodge Park
July 27 –  Mississauga at Riverwood Park
July 28 –  Mississauga at Benares Historic House
July 29 –  Kitchener at Civic Centre Park
July 30 –  Ingersoll at Ingersoll Cheese Museum
July 31 –  Orillia at Leacock Museum
August 2 –  Whitby  at Whitby Celebration Square
August 3 –  Pickering at Pickering Esplanade Park
August 4 –  Wasaga Beach at Venue TBD
August 5 –  Bobcaygeon at Kawartha Settlers Village
August 6 –  Peterborough at Peterborough Museum and Archives
August 7 –  Cobourg at Victoria Park
August 9 –  Trenton at Trent Port Marina
August 10 –  Westlake at Sand & Pearl Oyster Bar
August 11 –  Napanee at Allan Macpherson House
August 12 –  Kingston at The Hotel on Wolfe Island
August 13 –  Marmora at Memorial Park
August 14 –  Port Perry at Scugog Shores Historical Museum
August 16-17 –  Toronto at Christie Pits Park
August 18-21 –  Burlington at Royal Botanical Gardens
More Info: driftwoodtheatre.com  @DriftwoodTheatr  @DriftwoodTheatre