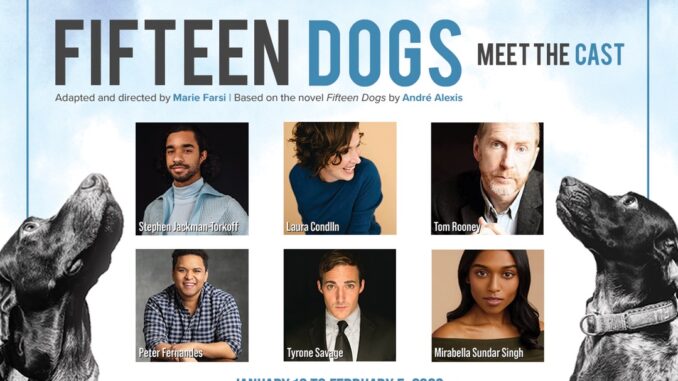 Where: Guloien Theatre, 345 Carlaw Avenue (at Dundas Street East)
When: January 10 to February 5, 2023
Cost: Ticket prices range from $45-$65 and can be purchased at crowstheatre.com. Sunday Pay-What-You-Can matinee tickets available two hours prior to show time.
Details: It all starts with an act of divine intervention. Meddling Greek gods, Apollo and Hermes, are drinking beer at the Wheat Sheaf Tavern in Toronto and arguing about – what else? – the nature of humanity. "Is it possible to die happy?" they ponder, and place a wager on whether or not animals would be happier than humans if they are granted human intelligence.
Around the corner, the gods find a veterinary clinic with fifteen dogs and grant them human consciousness. By turns joyful and tearful, playful and philosophical, Fifteen Dogs is an elegant and hugely entertaining modern-day fable about love, language and the human condition.
Adapted and Directed by Marie Farsi
Based on the novel Fifteen Dogs by André Alexis
Set, Props, and Costume Designer Julie Fox
Lighting Designer Kimberly Purtell
Sound Designer David Mesiha
Starring Laura Condlln, Peter Fernandes, Stephen Jackman-Torkoff, Tom Rooney, Tyrone Savage, Mirabella Sundar Singh
André Alexis was born in Trinidad and grew up in Canada. Fifteen Dogs, a global bestseller by the beloved Toronto writer, won the Scotiabank Giller Prize, the Rogers Writers' Trust Fiction Prize and Canada Reads.
More Info: www.crowstheatre.com @crowstheatre @crowstheatre