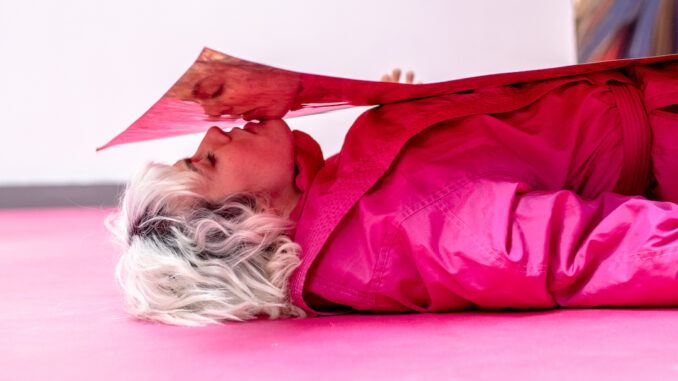 Where: Buddies in Bad Times Theatre, 12 Alexander Street
When: February 8–11, 2023
Cost: Wednesday thru Saturday is a sliding scale $10/$25/$40/$70 and can be purchased at buddiesinbadtimes.com/rhubarb or 416-975-8555. Performances at 7pm, Guzzle 'n' Puzzle lounge opens at 6pm.
Details: Back for a 44th year, Rhubarb transforms Buddies into a hotbed of experimentation, with artists challenging our notions of what art-making and art-watching can be. As Canada's longest-running new works festival, Rhubarb is the place to encounter the most adventurous ideas in performance and to catch familiar and unfamiliar artists venturing into uncharted territory.
This year, the festival intentionally expands its scope internationally, through a curatorial exchange with three live art festivals in Europe and the UK: FLAM in Amsterdam; Les Urbaines in Lausanne, Switzerland; BUZZCUT in Glasgow. As part of this multi-year exchange, Rhubarb will invite artists from and send Canadian artists to each of these contexts to perform.
Due to limited capacity, Thursday's performances have two ticketing options. The 7pm ticket includes access to Myung-Sun Kim, Jody Chan, and Ness Lee's piece,  Super Queer Social  (a lower capacity event where audiences will be unmasked to eat) as well as Publik Universal Frxnd + Louwrien Wijers and Mars Alexander's pieces at 9pm. The 9pm ticket provides access to the latter two.
Wednesday February 8
Davi Pontes + Wallace Ferreira
Julian Higuerey Núñez + Henry Adam Svec
Laura Fisher
Thursday, February 9
Myung-Sun Kim, Jody Chan + Ness Lee
Publik Universal Frxnd (fka Richard John Jones) + Louwrien Wijers
Mars Alexander
Friday, February 10
Simla Civelek
Bastien Hippocrate
KINUK (Ursula Johnson + Angella Parsons)
Saturday, February 11
Celia Green + Madeleine LeBlanc
Keioui Keijaun Thomas
Throughout – In the cabaret
Moe Angelos + Rachel Hauck
More Info: buddiesinbadtimes.com  @buddiesTO  @buddiesTO