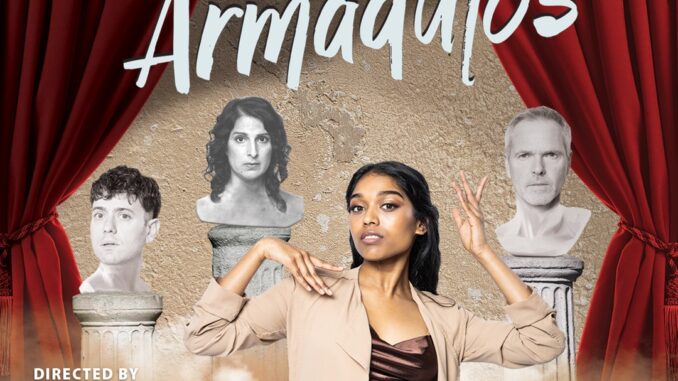 Where: Mainspace Theatre, Factory Theatre, 125 Bathurst Street
When: June 3-24, 2023
Cost: Sliding scale ticket model with a $0 option. Prices range $15 to $60, and include a limited number of $0 tickets for every performance. Masked performances also available. Tickets can be purchased at factorytheatre.ca.
Details: Everything is a risk. Especially the game of love.
On a cross-country theatre tour of a new interpretation of the classic Greek myth of the Marriage of Thetis and Peleus, the onstage danger spills into the backstage world as four actors have to navigate the realities of tour life, challenges to patriarchy and the disruption of a new actress performing Thetis halfway through the tour. The chaos she brings forces each to confront how the stories we tell about love, sex, power, and consent shape our everyday lives and interactions.
A provocative and unabashedly feminist new play from Governor General's Award-winner Colleen Wagner, Armadillos brings audiences beyond the edge of their seats to the edge of the stage and asks us: what stories do we have to leave behind in order to fully and truly love? Directed by Jani Lauzon.
Content Warning: Depictions and conversations of nonconsensual sexual violence and incest. Comments about assisted death and suicide. Use of alcohol and drugs.
More Info: factorytheatre.ca  @factorytheatre   @FactoryToronto