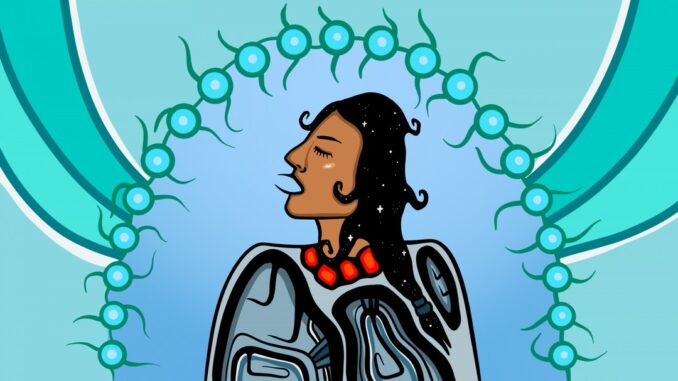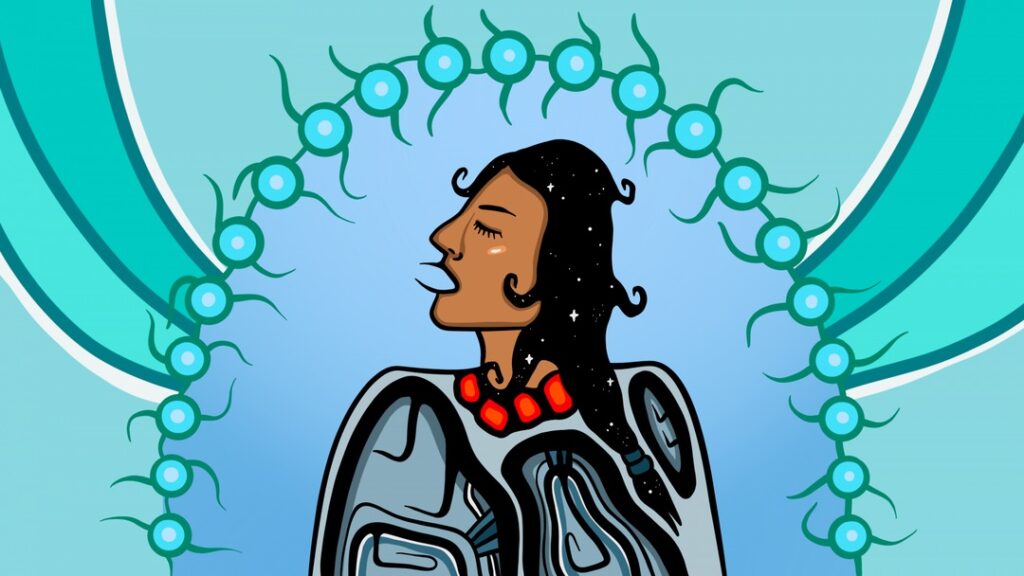 Where: Aki Studio, Daniels Spectrum, 585 Dundas Street East
When:  March 23-26, 2023. Opening Night is March 23 – talkback, facilitated by Cole Alvis  to follow the opening performance.
Cost: Pay-What-You-Can Tickets: $10, $20, $30 and can be purchased online at nativeearth.ca or by phone at 416.531.1402
Details: Raven Spirit Dance and Native Earth Performing Arts present the Ontario Premiere of  Chapter 21, a full-length dance and theatre piece about moving through grief. The production is programmed in honour of World Down Syndrome Day on March 21.
Chapter 21, choreographed by Starr Muranko and directed by Yvette Nolan, is a nonlinear show named with devastating accuracy. After several pregnancy losses, Starr  learned her son would be born with Trisomy 21, also known as Down syndrome. Just a few weeks later, she was diagnosed with breast cancer with a chemo treatment regime every 21 days. Chapter 21 explores what happens when a vibrant, active artist comes face to face with a crippling collision of events.
The production is a reflection on the days that have come to pass, and the art of becoming, with a new baby boy; Chromosome 21; the big "C" diagnosis, 21 days between treatments and 21 days to re-pattern beliefs; Courage; Faith; Resilience.
Raven Spirit Dance creates and produces contemporary dance that is rooted in Indigenous worldviews and honours the communities and artists they work with. Incorporating expressions such as traditional dance, theatre, puppetry and multimedia to tell stories, Raven Spirit works from the following values: generosity, openness, engagement, integrity and honouring. ravenspiritdance.com
Native Earth Performing Arts  is Canada's oldest professional Indigenous theatre company. Currently in its 40th year, Native Earth is dedicated to creating, developing and producing professional artistic expressions of the Indigenous experience in Canada. Through stage productions (theatre, dance and multi-disciplinary art), script development, apprenticeships and internships, Native Earth seeks to fulfill a community of artistic visions. nativeearth.ca
Choreographed & Performed by Starr Muranko
Director Yvette Nolan
Composer Edgardo Moreno
Lighting Design Jonathan Kim
Stage Manager Amanda Parafina
Costume Design Jeanette Kotowich
Mentors  Alvin Tolentino and Michelle Olson
Videographer Sophia Wolfe and Yasuhiro Okada
More Info: @nativeearthperformingarts @nativeearth nativeearth.ca