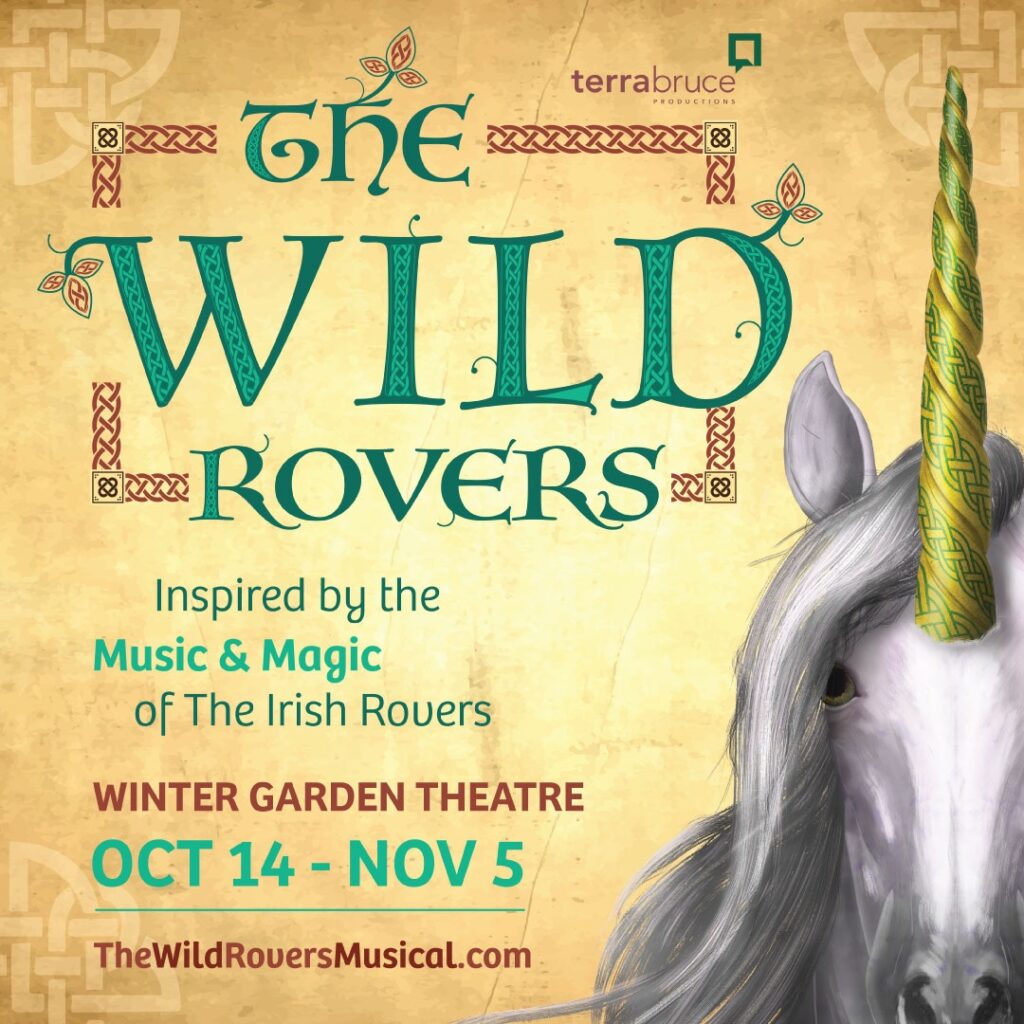 Where: Winter Garden Theatre, 189 Yonge St
When: October 14 to November 5, 2023
Cost: Previews $25.99 – $48.59; Tuesday evenings $38.42 – $73.45; Wednesdays & Thursday evenings $42.94 – $81.36; Friday & Saturday evenings, and matinees $47.46 – $89.27. Arts Worker tickets per patron will be available for $25 each. A limited number of Student Rush tickets for $20 will be available at the box office on the day of the performance, with valid student ID. Tickets can be purchased online at terrabruce.com/the-wild-rovers-musical, or phone 416-366-7723 or in Person at Meridian Hall, 1 Front Street East.
Details: Terra Bruce Productions presents The Wild Rovers, a new musical inspired by the music and magic of the beloved Irish Rovers. From writer Steve Cochrane, director Jason Byrne, with musical directors/arrangers and additional music by Kelly Ann-Evans and Josh Ward. The cast includes Julia Dunne, Philip Goodridge, Vicki Harnett, Liam Lynch, Steve Maloney, Powell Norbert, Melanie O'Brien, Sean Panting and Nicole Underhay.
The production is a mad-cap adventure that sees a famed band whisked away to a fantastical land of Athunia, not to be confused with their sworn enemy, Ethunia (and yes, they are pronounced exactly the same). These fictional countries find themselves on the brink of war and the loveable, hard-working band must help them find a path to peace through song! There will be puppets, there will be no intermission, and there most definitely will be no fourth wall.
Features a hysterical, magical fairytale script and reimagined beloved songs. With a mashup of Irish Rovers greatest hits and original music, "there are still a lot of layers of the original songs that you might have heard," says Kelly-Ann Evans, Musical Director. "The Black Velvet Band, Drunken Sailor, Wasn't That a Party… The beautiful fantasy of the script has allowed us to expand on them and develop them into the musical theatre genre."
Approximate runtime is 90 minutes.
More Info: terrabruce.com/the-wild-rovers-musical